Accessories
When you step out onto the pickleball court, the bare minimum of equipment required is a pickleball paddle, ball, and a net. However, the full range of pickleball accessories will take an already fun game and make it even better!
Pickleball gear is there to help you improve your performance, have more fun, and protect you from injury. Keep in mind this fun stuff makes great gifts for the enthusiast, so your search for pickleball accessories is perfect for the player with high standards.
Accessories for Playing Pickleball
Bags to Carry Equipment
You need a bag. The right sized bags are big enough to carry paddles, balls, a water jug and all those important personal items like cell phones and wallets.
A good bag company makes their products with quality zippers and multiple pockets. When you play pickleball, you surely will accumulate various supplies and a good bag will be important to have them all in one place.
Get a Grip
Having the right grip for your game and for your paddle is a big deal especially if you are interested in a purchase that has minimal cost and a big impact. One of the many different types of grips is likely to have just the right thickness and properties that are a part of your search.
Balls
Get the right balls for the conditions: indoor and outdoor balls are set up that way for a reason. Get the ones you like best for your game.
Braces
Some folks bring tennis elbow with them from playing tennis. The good news is pickleball is not as stressful on the arm as tennis but having a quality brace can help minimize pain.
Paddle Covers
When you play pickleball, your pickleball paddle is your most important piece of equipment. Therefore, protecting it from keys, phones, and other items that can damage a paddle's face is addressed with a cover. A small expense for great protection.
Top 5 Accessories for Pickleball Court Equipment
1) Portable Net Systems
Since so many pickleball courts are just permanent lines painted on as part of tennis court construction, having your own portable net systems means having the freedom to play where and when you want.
A complete set of pickleball court equipment will include a net. These are surprising affordable from a quality pickleball equipment supply store like pickleball-paddles.com.
The standards are set by the USA Pickleball Association. However, there are options that include carrying bags which are not included in the rulebook.
2) Ball Holders
If you are giving lessons and using a ball machine or even if you are feeding balls, you have to have a sufficient supply for drills. But that means they will be all over the pickleball court.
So do yourself a favor and have a full ball holder or two so you don't have to interrupt the lesson to pick up balls from the court. More instruction time means happier players!
3) Sunglasses
If you are outside though, being able to see the ball as the sun beats down on you means a good pair of sunglasses is not an option - they are a necessity.
4) Gloves
When you search for a way to play in cooler weather, the right gloves will help you hang onto the paddle and protect your skin from those autumn and spring breezes. The right pair will extend your season on the court.
5) Hats
When you sign up to play outside, you aren't just battling the competition. The elements will add to the challenge of pickleball.
Hats and visors keep the sun out of your eyes and off the top of your head. Those damaging rays are for real so why not keep them away as best you can?
It is a sign you are getting a workout if you work up a good sweat. A good hat can soak up some of that sweat to keep it out of your eyes.
Shop With Us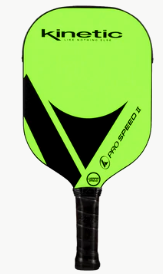 Pickleball-paddles.com carries everything you need to be your best on the court. After you line up the perfect paddle, be sure to search for cool and practical apparel.
Looking for sales? You will have plenty of company if you check out our clearance website to see what we have in stock for truly amazing prices.
Questions?
Call us! Our team of friendly pickleball experts have lots of experience on the court and they are very happy to share their knowledge with you.
Related Pages: