Outdoor Pickleballs
The sun is shining, the birds are singing, and you have your brand-new paddle from Pickleball-paddles.com so you are ready to hit the court. But wait - first you better make sure you have a couple of outdoor pickleball balls and then you really are good to go.
Indoor Pickleball Balls vs. Outdoor Pickle Balls
The USA Pickleball Association sets the standards for both outdoor pickleballs and indoor pickleballs but does not dictate where balls are to be played. Therefore, particularly for recreational play, the best pickleball balls are the ones you like best. You can play with either kind of ball in any location.
The Outdoor Ball
Since outdoor balls are exposed to wind, sun and highly abrasive pickleball court surfaces, manufacturers specifically design them with smaller holes. But to make them as playable as possible, they compensate by putting in more precision drilled holes.
Most brands argue they use extra durable plastic so that casual play and those approved for tournament play will hold up over time. But balls for outdoors will probably last a bit longer due to the smaller holes.
Indoor Pickleballs
The best indoor pickleballs will tend to have fewer but larger holes since indoor pickleball does not have to worry about the elements and the court is often smoother. Indoor balls will last quite a while too, but they are more likely to crack.
Who Makes the Top Pickleball Balls?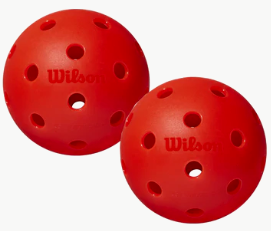 Since the pickleball ball is carefully regulated by the USAPA, several brands have really stepped up to make approved, quality products. They include Franklin, Penn, Baddle and Wilson among others.
One Stop Shopping
Pickleball-paddles is delighted to be your best source for everything pickleball related. In addition to paddles and [best pickleballs reviewed], you can find portable nets and shoes that are perfect for your playtime.
Check out our amazing prices and sales on apparel and accessories too! And don't forget a bag to carry around all your stuff.
Questions?
Call our friendly team of pickleball experts with any questions. We love to help!