Paddletek Pickleball Paddles
Passion is a strongly and barely controlled emotion. Paddletek pickleball paddles is a perfect example of passion for pickleball as this company does one thing and one thing only: pickleball.
When a company intensely invests in a game it becomes a strategic player in the market. By using only the best materials their game changing pickleball paddles have taken the sport by storm and the long list of pros who use their paddles is more than a testimony: it shows passion.
What Makes Paddletek Paddles Different?
5 Big Innovations
Smart response technology is a concept built around making pickleball paddles feel comfortable in your hand while putting the ball where you want it.

Vibration control is a priority as vibration dampening means having a dynamic sweet spot about the size of the planet Jupiter. In addition to being awesome for people with elbow and shoulder issues, it greatly enhances control.

While a paddle with an advanced honeycomb core seems standard today, paddletek basically invented the concept over ten years ago. Now using a polymer core, a high performance paddle like those from Paddletek paddles means that large sweet spot comes with a quiet sound profile - a valuable feature in communities with noise sensitivity.

Grip vibration dampening further extends Paddletek's commitment to reduced vibration. For some paddle makers the grip is an afterthought but not here and amazing control is the result.

The textured graphite surface is USAPA approved yet somehow, Paddletek makes a pickleball paddle where almost every player can create spin.
Light Weight Paddles With Power
With many of their paddles at the lighter end of middle weight paddles, Paddletek has found a way to generate maximum pop without having their paddles weigh a ton. This is not the norm and makes Paddletek a force to be reckoned with.
A Paddle with Passion
Paddletek paddles were created by pickleball lovers for everyone who loves pickleball on account of their dream to activate the customer into playing more and better pickleball. The passion comes through in their attention to details and features like extra sturdy edge guards.
Quality with a Competitive Price
Paddletek wants everyone to play with their paddles so they price their paddles in line with everyone else without cutting corners on quality.
3 Series of Paddles
Bantam Series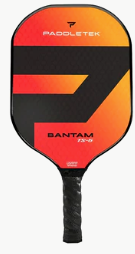 The Bantam Series such as the Bantam ex l are designed to appeal to those wanting more power. With several different surfaces, Paddletek brings their industry leading surface technology to a broad audience.
Leaning toward the top of the mid-weight classification you will find their polycarbonate and fiberglass epoxy surfaces to be innovative and a surface choice that is a "no lose" set of options.
Tempest Wave Series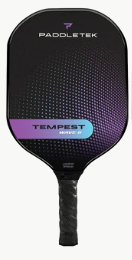 Paddletek has a big winner in their Tempest Wave ii that generates unmatched control with textured graphite on the surface. Firmly in the mid-weight camp, the Tempest Series gives the confidence that precision is just a flick of the wrist away.
Phoenix Series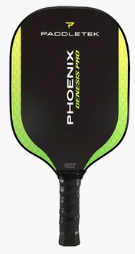 Then there are the players that want it all: power and control. The Phoenix Genesis Pro and its sisters offer fiberglass epoxy or polycarbonate surface materials that tries to thread that needle for the player who wants to hit passing shots with pace or precisely place the dink to set up the next shot.
Also in the mid-weight category favored by consumers everywhere, the Phoenix series will really benefit the intermediate who wants to broaden their choice of shots.
Whether your preference is for textured graphite, fiberglass epoxy, or polycarbonate you should get a grip on your wallet as you will want to buy several at the price Paddletek is charging.
Shop with Us
You really ought to speed your way to our newsletter join site and sign up so you can hear about our special promotions. Our customer service is excellent and you can call our actual pickleball experts with questions.
We really are your one stop shop for everything pickleball related and we ship promptly and accurately. Check out our huge selection of apparel and shoes for everyone.
And while you are at it, it is probably time for a new set of balls and you really should have a pickleball bag to carry all your stuff.
With all the choice you need and the competitive prices you want, pickleball-paddles.com is sure to be your favorite pickleball store!