Pickleballs
Pickleball balls are not wiffle balls. While they are both plastic and have holes in them, the differences are easy to figure out. With the incredible proliferation of new products on the market, figuring out the best pickleball balls for you can be a challenge.
A quick review of what it takes for pickleball balls to become USAPA approved will give you important background. Just knowing a bit about the differences between indoor and outdoor balls will help you too.
Importance of Being USAPA Approved
The USA Pickleball Association (USAPA) sets the standards for all equipment like pickleball balls and pickleball paddles. It is important to note that these are the standards for tournaments.
Using Unapproved Equipment
While you can use unapproved equipment for fun games, it makes sense to look for the approval as a sort of quality approval. USA Pickleball approved brands are listed on the association's website.
Tournament Play Specs
Regardless if you are using outdoor pickleball balls or indoor pickleball balls, the regs are the same. A tournament director selects an official ball that is approved for tournament play at that particular event.
Requirements
The association wants them to have a true bounce and a true flight. To those ends, they want bounce consistency so that the high-level play of competitive players is not adversely impacted.
Specs
Among the various requirements are diameter (2.9 inches), weight (.85 oz), maximum amount to be "out of round", and amount of surface texture (none.) Small variations are OK.
Simply put, they want the ball to react to the paddle and the court the same way every time so that the game is more about skill and tactics than about the equipment.
Holes
In the rules, the pickleball ball can have any number of holes between 26 and 40 but they must be circular. They also must be evenly spaced unlike those classic old plastic wiffles where the holes are only on one side.
Colors
There are no rules on color other than it must be uniform over the entire surface. While optic yellow or neon green have become very common in traditional pickleballs just like in tennis, there is nothing wrong with playing with orange, lime green, banana yellow, or any other high visibility color.
Outdoor Balls vs. Indoor Balls
Just to be clear, there is no official definition of outdoor pickleball balls or of indoor pickleball balls. The regs do allow some variation around the standards and as a result, manufacturers create marketing campaigns around relatively minor differences.
Differences
However, it is true that an outdoor ball is designed to minimize the impact of wind and more abrasive court surfaces. Indoor balls don't have to deal with wind and should play well on smoother indoor surfaces.
Outdoor Ball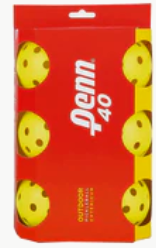 Being slightly harder and heavier means that outdoor pickleballs are faster but are more vulnerable to cracking as they wear down on abrasive outdoor courts. These characteristics mean they are sometimes viewed as a less durable ball.
Importance of Holes
Most outdoor pickleballs have more but smaller holes with most having the max 40. Outdoor pickleballs tend to be a bit noisier due to the increased hardness.
Indoor Ball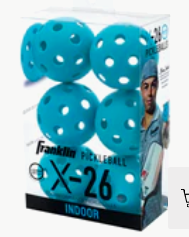 An indoor ball is likely to be a bit softer with the number of holes closer to the minimum of 26. Most indoor courts are smoother and therefore do not punish balls as much.
Impact of Spin
As a result, the indoor game is often played with more spin coming off the best pickleball paddles. Outdoor pickleball however, often has the court gripping a shot hit with spin and as a result offsetting the advantage of using softer balls inside.
Popular Brands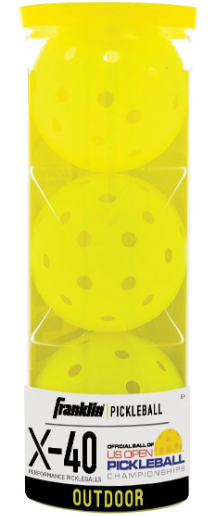 Franklin Sports, Penn, Gamma and Jugs balls are popular with many players.
Shop With Us
If you are someone who plays pickleball twice a year or twice a week, Pickleball-paddles.com is the store that has what you need.
Choices
Paddles of course, but shoes, bags and apparel are all part of having the complete package.
Questions?
Our store ships fast and we have pickleball experts on staff to answer questions. Call us and see how friendly and helpful our staff is!