Pickleball Bags
May we take a moment to discuss the importance of pickleball bags? Maybe you have been using a tennis or gym bag to carry all your stuff around and honestly, that is not ideal.
Every time you go to use it for something else, it means you have the hassle of taking out your tennis gear or your gym gear or your racquetball gear, well, you get the point. Do yourself a favor, get a pickleball bag and store your stuff in one, convenient location: one bag per sport.
3 Reasons to Buy a Pickleball Bag
1) Store and Carry Your Stuff
You probably have several hundred dollars (or more) invested in pickleball paddles balls and shoes. You probably use a water bottle for hydration, a towel for keeping your hands dry and you always carry your cell, wallet and other personal items.
Is there any question you have to have something to carry all of this stuff?
2) Protect Your Stuff
Regardless if you have multiple paddles or just one, having them rattle around in some other kind of bag can result in dents and scratches to the surface. And do you really want to take off your shoes after a vigorous match and have them bang around with your cell and other not so sturdy items?
Having multiple compartments to keep your pickleball gear separate and safe is found in most top pickleball bags.
3) Never Forget Important Stuff
How many times have you arrived at the court only to discover you forgot your shoes or a towel? How many times have you left something on a court bench like a cell phone or a wallet?
You need a versatile bag that can hold everything including the many pickleball accessories that are part of your pickleball life.
Top 5 Features of Pickleball Bags
1) Durable Bag with Zippered Compartment
The best pickleball bags will work for you year after year. The spacious main compartment can't just be big to carry a bunch of stuff, it has to have a strong zipper so the bag offers you the security of knowing that it will stay in place even in a car trunk traveling at high speed so you aren't late for your match - again.
2) Adjustable Shoulder Strap
What is comfortable for one person is likely not going to work for someone else. Padded shoulder straps are a great idea as padded straps will simply be more comfortable..
Adjustable shoulder straps sometimes allow for a bag to convert to a pickleball sling bag or backpack on demand. Cool!
3) Side Pockets for up to Six Paddles
Operating as a pickleball paddle cover, you want your pickleball paddles to stay in one place and not be exposed to sweaty clothing, wet towels and sharp objects like keys. Putting them in the main compartment is not ideal.
Bags with room for only four pickleball paddles is also acceptable for most pickleball players. But you should not assume that the paddles you have now will be the last pickleball paddles you ever buy - leave room for expansion.
4) Vented Shoe Compartment
You will eventually not wear your shoes to and from the court. Maybe you will travel directly from a business meeting and even your best pickleball shoes would not be appropriate. Or you don't want to wear them out to dinner with friends.
Ideally, the shoe pocket is not the same as the main compartment, but instead have their own ventilated space. Breathable mesh panels for a shoe pocket not only look good but provide drying air flow.
5) Built in Fence Hook
Playing outdoors means you won't always have a convenient bench on which to put your bag. A hook makes it easy to attach it to the fence.
A Bag Style for You
Pickleball Backpacks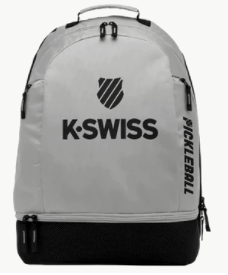 Backpacks are great if you have some distance to cover from the parking lot or from one end of the facility to another - especially if you have a large number of pickleball paddles to carry.
Sling Bag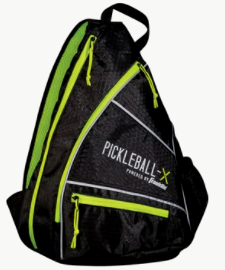 So easy to throw over one shoulder, these pickleball bags are just the ticket for moderate amounts of stuff.
Pickleball Tote Bags
The old standard tote bags still offer all the features you need including that important shoe pocket.
Pickleball Duffle Bag
You like to keep things casual, so a duffle bag fits your lifestyle and your personal look. A bag big enough to carry the essentials like paddles balls and a bottle to keep drinks cool are all you need.
One Stop Shopping
Whether you are looking for ladies pickleball bags or men's bags, you are sure to find the perfect bag for you or for a gift. Cool brands and attractive colors not to mention the many features you want are waiting for you here.
You also should check out the latest and greatest pickleball accessories, paddles and shoes from our giant selection - all with very competitive prices. We have sales too!
Call us with any questions!