Pickleball Paddles
Without a doubt, pickleball paddles are the most important piece of equipment for playing pickleball. Yet, pickleball players of every ability don't spend nearly enough time understanding what the best pickleball paddles are for their game.
Too often they pick a pickleball paddle based on what a friend uses or what a pro uses or even the price or color scheme. If you want to play pickleball up to your ability, take a few minutes and read our Buying Guide and study the options. You'll be glad you did!
Importance of Pickleball Paddle Weight
While there are plenty of ways to sort through the hundreds of pickleball paddles that are approved by the USA Pickleball Association, the most important of all is weight. Pickleball equipment of all kinds is relatively light, but when it comes to paddles a couple of ounces can make the difference between the best paddle ever and one that is a bad option perhaps causing injury.
Lightweight Paddles
A pickleball paddle is considered to be a light paddle if it weighs 7.2 ounces or less. The materials used for the core and surface determine the majority of the weight.
Beginner Paddles
Most players who are beginners should start with lightweight pickleball paddles. Unless you are an experienced racquet sports or tennis player your first pickleball paddle will likely fall into this category.
Other Players
But a lighter paddle is not just for beginners. If you game relies on finesse and ball control, your ideal paddle is likely lightweight.
If you playing style is all about power, you are not typically going to be happy with these. Also, if you have a history of tennis elbow, a lighter model is probably the right paddle for you.
Mid-Weight Pickleball Paddles
From 7.3 to 8.4 ounces in weight, you will find the mid-weight category. This is a terrific paddle weight for a large cross section of players.
This is the right pickleball paddle category for players who want both power and control. On top of that they will try to impart spin on account of their skills being at least average or above.
Some of these models are also arm friendly (a tennis racket term). There is a very large selection of paddle options to shop from in this category as it can be the default category for those unsure of what to buy.
Heavy Paddles
Weighing in at over 8.4 ounces, these bad boys are all about the power. This sport has an emerging class of elite players, and a heavy paddle is made for them.
Anytime you get a new paddle there is an adjustment period, but the inexperienced player will struggle to get the ball going in the right direction and could actually injure themselves with these. Table tennis players simply won't be able to control their shots that come second nature to them on the ping pong table.
Graphite Paddles vs. Composite Pickleball Paddles
The material on the paddle face is the source of many great debates. Both of the primary options have strengths and weaknesses.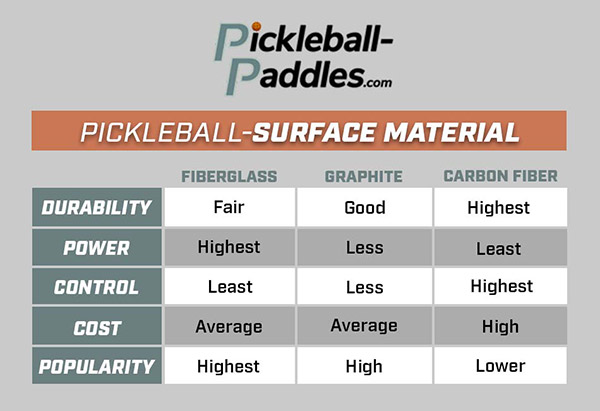 Composite Paddle
Generally the most popular, it can help generate power but is not the best pickleball paddle for control. Composite fiberglass surfaces are somewhat durable but graphite does a better job resisting scratches and dents.
Graphite
This virtually indestructible face is great for control-oriented players. Note that this is not the same as carbon fiber which is usually much more expensive and is produced using a different process than graphite although both use carbon as the base material.
Carbon fiber has its own playing characteristics and is worth considering if you have the budget for it.
Core Materials
Polymer
As the most popular core, polymers are quite soft and facilitate a variety of shots. They also have the benefit of being the quietest which is a consideration in some residential communities.
Nomex Honeycomb Core
Also being light, these and polymers have both allowed the development of modern wide body paddles. Nomex is harder and noisier but gaining in popularity.
Aluminum
Most paddle makers have moved away from aluminum due to its vulnerability to denting. Dents will definitely mess with the sweet spot and dented paddles should be discarded immediately.
Wood
As the cheapest option, these paddles still make sense for the one time user or for open play in communities. But because they are not honeycombed, they tend to offer neither power or excellent ball placement and often have dead spots.
The edge will also wear quickly on a wooden paddle so unless money is the only consideration, these are not a good option for anyone trying to do reasonably well on the court.
Grip Size
Be sure to get the correct grip circumference depending on if you have smaller hands or larger hands. Smaller hands will need a thin grip and a larger grip goes with bigger hands.
Grips in paddles do not have as many options as tennis racquets so when in doubt, avoid a large grip and instead buy a narrow size and build it up. This is an easy DIY project.
If you use a two handed backhand, a longer grip will be the correct grip size to accommodate both hands.
Paddle Shape
The conventional wide paddle face is best for most players other than higher skill levels who may want something narrower. Wider means a larger sweet spot giving you the best chance to execute the shot you want.
Shop for the Best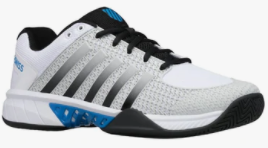 Pickleball-paddles.com is pleased to provide you with a huge selection of paddles, shoes and accessories. No matter if you are entering tournaments or just goofing around at the park, you deserve the best.
Call us with questions as our friendly local experts are here to help!