Paddle Covers
The spectacular growth in the sport of pickleball has meant all kinds of innovation with paddles. That innovation has meant almost any paddle needs pickleball paddle covers to shield them.
Other than ultra-inexpensive solid wood models, to keep your paddle in top shape it means keeping scratches and especially dents from marring the space age surfaces and a paddle cover will do exactly that.
5 Reasons to Buy a Paddle Cover
1) Protect Your Paddle
A paddle cover will protect your paddle from the various ways your paddle gets damaged. Think about all the things you carry in your bag with a paddle: other paddles, keys, cell phone, and a water bottle come to mind.
While no paddle cover can prevent every possible dent or scratches, it fully covers the face and edge for almost any paddle. Dents, in particular can impact shots which may cause a ball to fly off your intended path.
2) Protect the Edge
If you want to keep your paddle in tip top shape, watch the edge of your paddle. The edge already gets plenty of abuse as you go for low shots like dinks and drops and almost any paddle will show some wear and tear as a result.
If your edge guard separates from the rest of the paddle, trying to fix it is difficult. Glue is sometimes tried but adding glue to the edge will impact the balance and size of the sweet spot.
3) Keep Your Paddle Investment Intact
Your paddle is probably your biggest investment in the game. Beating it up is simply a waste of that investment so if you protect your paddle, you can extend its life saving you money.
4) They are Inexpensive
At a price of perhaps 80-90% less than the price of a new model, covers are much cheaper than having to replace a dented favorite. A cover is simply worth the market price.
5) They Can Be Re-Purposed
When it comes time for you to upgrade or simply replace your old faithful, many covers will fit almost any paddle. While you could search for a new cover when you buy a new model, you should find that a cover can be used over and over again.
So what if your cover brand is different from your paddle brand! It should not matter if your paddle is thick or thin in order to protect it well. One caution however: if you play with a longer but narrower model, this may make a cover fit poorly.
Features of a Cover
Neoprene Cover
Neoprene is a material that is a synthetic, rubber like material. It resists oil, heat, and cold and offers protection through almost all bumps and grinds. While a neoprene cover is not the only way to go, neoprene will work hard to protect your paddle under most conditions.
Zipper Closure
Working well with neoprene is a durable zipper. In order to protect your paddle, a zipper will wrap easily around the edge and this will keep your paddle safe and sound.
Cushioning Liner
Paddle covers can have a soft lining on the inside to keep your paddle from sliding around and offer further cushioning. Your gear deserves pampering like this as caring for your accessories will make your equipment happy and healthy!
Designs to Reflect Your Style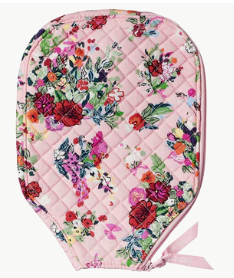 The market offers plenty of options as to color and style. It doesn't matter if your favorite is pink or if it is gray, for a very low price you can make a statement about your favorite brand of gear.
Questions?
We are your go to source for everything for the sport you love. With a competitive price on paddles, apparel and shoes, if you search the market for the best store you know we will help you at every step.