Indoor Pickleballs
One of the best things about pickleball is that you can play it all year even in cold climates thanks to indoor courts. It is important to know that there are real differences between indoor pickleball balls and pickleball balls for outside.
It may seem obvious but indoor balls are optimized for indoor play and most outdoor balls are ideal for outdoor conditions. Less well known is that the USA Pickleball Association (USAPA) only sets requirements for pickleball balls in general and they do not mandate indoor pickleball balls for indoor play.
6 Pickleball Ball Standards
1) Smoothness
Basically, pickleball balls must have a smooth surface to be approved, and you should only use USAPA approved balls. If it is constructed in two pieces that are then fused, there may be a slight ridge but it may not be enough to impact the flight of the ball.
2) Color
Other than a manufacturer logo, all pickleballs must be a uniform color. Sorry, no stripes, paisley, or tie dye patterns are allowed. Those USAPA people must be party poopers!
3) Size
Indoor and outdoor pickleballs are all the same size: 2.92 inches (+/-.o5) in diameter. Whenever balls get out of round as will happen if they are exposed to high heat, they should be discarded. This is why keeping them in a hot car is a bad idea.
4) Weight
With a standard weight of around .85 ounces there is not much room for variation. However, different brands will vary slightly and still be legal.
5) Bounce
All pickleball balls, regardless of maker must conform to a strict standard of how much bounce they have when new.
The big difference from brand to brand is how well they maintain their bounce after repeated play. The most important thing is to understand that as long as USAPA standards are met, a consistent bounce is a good bounce.
Furthermore, since court surfaces vary considerably, they wear differently and the bounce is impacted. This is why playing with new balls during tournament play is likely to feel different then a ball you have used over and over.
6) Holes
This is the area of biggest discussion among players. Both indoor pickleballs and an outdoor ball can have no fewer than 26 balls and no more than 40 holes.
The rules only specify that the holes must be circular and evenly spaced. You can start a debate over the merits of drilled holes vs. molded holes and whether beveling them makes any difference.
Indoor Balls vs. Outdoor Balls
Indoor Pickleballs

Indoor pickleball balls do not have to be concerned about wind or sun, but an indoor ball may or may not have to worry about the pickleball court surface. If it is a smooth court trying to find a legal ball that has a soft plastic (and still conforming to the rules) will make for more spin for indoor play.
Holes for Indoor Pickleballs
The holes for an indoor pickleball ball can be larger since there is no wind when playing indoors so the paddle and the player skill can really impact the generation of spin. An indoor pickleball ball might not have as much pace as a result.
An indoor pickleball will tend to have fewer holes to balance out the larger sized holes.
Durability
Indoor pickleballs are sometimes subject to more breakage thanks to the larger holes. The best indoor pickleballs, however, should offer extensive durability but be vulnerable to getting out of shape.
Price
Indoor pickleballs do not have a price difference vs. outdoor pickleballs.
Outdoor Pickleball Balls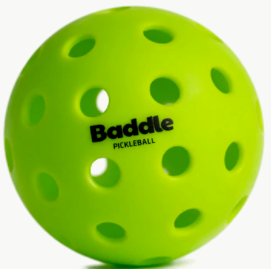 Unlike an indoor pickleball, the top ball group for outside is subject to all kinds of weather related issues - wind and sun in particular. In addition, the court for outdoor play is likely to be an abrasive surface.
Holes
Generally, there are more holes than with balls for indoor pickleball but they are smaller. The top pickleball balls used for tournament play are thought to be a bit harder than recreation focused balls used outside.
Durability
Thought to be slightly harder than other balls due to the abrasive nature of concrete and asphalt, pickleball balls like the Franklin Sports X Series are likely to hold up well. However, they will crack particularly when used in cooler weather.
The trade off for this durability will be that spin is harder to generate than for indoor pickleball but creating pace is easier. Of course, it depends on the skill of the player.
What About Color?
Other than the requirement for the color to be solid, there are no rules. The most popular color is a bright lime green or yellow. Other indoor and outdoor balls have colors like orange and red which are also widely available.
The Best is Here
Pickleball-paddles.com is your one stop shop for all things pickleball. With a huge supply of paddles for men and women, you will surely find the best paddle for you whether you are an advanced player or just getting started in the sport.
You should also pay attention to our great selection of shoes and bags. We strive to have competitive prices all the time, but be sure to check out our clearance page too.
Questions?
Call us! Our team of friendly pickleball experts is standing by to help you with your shopping. Be sure to check out our Learning Center for all kinds of valuable tips to help you have all the fun that pickleball has in store for you!