Pickleball Sets
When the founders of pickleball started the sport on a whim from their homes on Bainbridge Island, Washington, they used scrap materials they had on hand to make ultra-cheap pickleball paddles and balls. There is no doubt they would be completely comfortable with the many pickle ball sets available today.
A pickleball set includes a pickleball paddle bundle and a couple of balls. A really complete set includes a portable net system and paddles and balls is truly all you need to play. Toss in a carrying case and you really have a complete starter set.
Pickleball Paddles Included in Pickleball Sets
Sets include one of the following paddle types.
Wood Paddles
Just like the original paddles made by the founders, wood paddles are very inexpensive. These wooden paddles should not be confused with the more sophisticated, lighter paddles played with by advanced players and the majority of those who enjoy the sport.
The big advantage these have is cost and therefore, if you are having a pickleball party or if you are supplying a public access facility with paddles, wood paddles can make sense.
Composite Paddles

These paddles are typically much lighter than wood, have a surface with fiberglass composite and have a honeycomb core. Much more suitable for regular games, these pickleball sets have paddles that can be used by anybody especially those just getting started in pickleball.
One other advantage with composite paddles is that they have an edge guard. Even the best players scrape their paddle on the court and this guard is essential for durability.
Graphite Paddles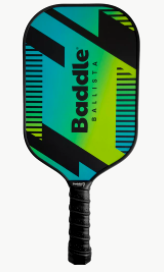 A paddle set with a graphite face on the paddles is typically a bit more expensive, includes a honeycomb, often polymer core and an edge guard. See our Buying Guide for details on the nuances of composite paddles vs. graphite paddles. The surface on graphite paddles might be more durable over the long haul.
Balls Needed to Play Pickleball
As with paddles, be sure to use USAPA approved balls. A paddle ball is not the same and should never be used in playing pickleball.
Indoor Balls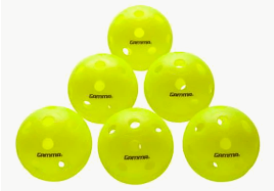 The biggest difference between indoor balls and outdoor balls is that there are fewer but larger holes. Note that pickleball sets may include either indoor or outdoor balls in their ball set but usually not both.
The official rules from USAPA do not require indoor balls to be used indoors and the same is for outdoor balls use outdoors.
Outdoor Balls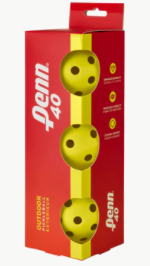 With more but smaller holes, outdoor balls are less subject to wind and weigh slightly more. This makes them better able to withstand asphalt and concrete court surfaces.
Portable Pickleball Net System
A portable net is a useful item to have either inside pickleball sets or bought as a separate piece of pickleball equipment. It is common that lines are put on tennis courts but no net is set up.
If you have your own portable net, you can enjoy pickleball anywhere there are lines. A net system is extremely easy to set up and takes only a few short minutes.
If you buy some court tape, you can literally set up a court in a parking lot or a driveway when combined with a portable net system.
Carrying Bags
While a carry bag is usually included with a portable net, it is not with most other pickleball bundles. Since a set includes either two or four balls and two or four paddles a bag to store your gear will make your pickleball life much more simple.
If you store your pickleball gear all in one storage bag, it will store your pickleball paddle or paddles, balls and accessories like a towel and water bottle in one, central location you can grab and go without any fuss or muss.
One Stop Shop for Pickleball Gear
Pickleball-paddles.com is proud to have all the gear you need to enjoy the game that will provide hours of fun and exercise to everybody who gets involved. If you are looking for activewear for women and men and kids, we have a huge selection at great prices.
Be sure to check out our clearance page for even more amazing prices. And if you have questions, call our friendly team of pickleball experts. We love to help!