Wilson Pickleball Paddles
There are not many companies that have been producing sporting goods for over a century. Chicago based Wilson Sporting Goods has sometimes been referred to as the first global racquet brand so when they decided to enter the pickleball market, Wilson pickleball paddles became an instant hit.
The problem for consumers is that the growing popularity of the sport has meant that there are more pickleball paddles than ever to choose from. Unlike some racquet sports, pickleball is on an epic growth curve and pickleball players can surely find the perfect pickleball paddle if they do a little homework.
What Makes a Wilson Pickleball Paddle Different?
Massive Research
Just as they have done with tennis and golf, Wilson Sports invests in paddle research. Mundane things like exactly how the ball comes off the surface and how to get maximum durability from the edge are all important to Wilson.
Global Reach
In some places, pickleball equipment need to provide massive power shots. In other places, more control is important. To appeal to so many interests is both a challenge and an opportunity.
Paddles for Everyone
Want a graphite paddle? Wilson has pickleball paddles for you. Looking for fiberglass composite? No problem. Even carbon fiber? Absolutely.
Want the lightest paddle or a heavyweight thumper? Check, and check. Since weight is the most important factor, be sure to educate yourself on this topic by checking out our Learning Center.
3 Features of Wilson Paddles
1) Polymer Power Comb Technology
While some brands have focused extensively on the surface of a paddle, Wilson has instead lasered in on having a thicker polymer core. This focus on the guts makes for a versatile paddle that can offer better control and a huge sweet spot.
In addition, while offering fiberglass composite and graphite surfaces, the reviews indicate that a large sweet spot and increased spin result from this innovative core. And the best of all news is that this core will last for match after match - even if you are hitting those crushing passing shots that require enormous pace.
2) Graphite Composite Hitting Zone
If you need a quick maneuvering paddle, graphite is what you need and this company has done some unique work on graphite composites that create excellent balance for getting the ball into those tight spots the control player seeks.
3) Shock Stop Dampening Bumper
It's inevitable when you play pickleball. This is one of those sports where your paddle is going to scrape the court as you go after a dink or a drop.
Wilson's approach to durability understands the most vulnerable spot on the paddle is the edge so they make it to take a beating without creating a crazy weight balance. Reviews tell us their bumper will hold up over time.
What About Price?
While everyone has a budget, picking a pickleball paddle based on price is a less than ideal strategy. However, with Wilson, price is not an obstacle.
Whether graphite or fiberglass composite, this brand is able to use the advantage of scale to keep their price below much of the competition. Even their new line of carbon fiber surface is very reasonable.
Pickleball has a price that is very reasonable compared to other sports. Now a paddle company makes superb paddles with a true value oriented price. Inspired!
3 Series of Paddles
Echo Series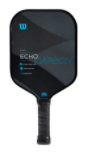 As the latest series of their pickleball paddles, buyers have several choices of surfaces and appearance packages. They also include a two handed backhand grip size that is longer to accommodate this style of hitting.
Juice Series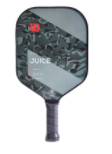 The well received Juice models got a makeover in 2021. The company is constantly looking for ways to appeal to their worldwide constituency. A new camo look has broad based appeal.
Wilson Tour Pro
No longer in production, these models helped establish this brand as one that was here to stay.
Shop with Us
Whether you want a light or heavy paddles, fiberglass composite or carbon fiber, pickleballpaddles.com is your source for all the best in paddles, balls, and accessories. But the big difference with us is the service.
We have a staff of pickleball experts here to answer your questions, and the best part is they are really friendly and helpful regardless of whether you are a beginner or an experienced player. Call us with questions!
In addition, you can rely on us for all those other things that make for a better experience when playing. For instance, you really do need a bag to carry your various paddles, towels and water jug.
We are your one stop shop for all things pickleball!