Pickleball Equipment
Playing pickleball is showing every sign of being THE game to play for the 2020's and beyond. Pickleball equipment is extremely affordable, and the sport is incredibly easy to learn all of which combines to make for this being one of the racquet sports you need and want to play.
The best pickleball equipment is definitely the newest pickleball equipment. The sport is so new that manufacturers are just now dialing into how to use exotic materials like carbon fiber and using them cost effectively so the cost to play pickleball stays low.
Pickleball Paddles
Probably the most important piece of pickleball equipment is the pickleball paddle. With the explosive growth in people playing pickleball, there has also been an explosion in the number of paddle makers.
The USA Pickleball Association (USAPA) governs all the regulations for the game and pickleball players may only use USAPA approved paddles in tournaments. They publish the list and update it regularly. With over 1000 approved paddles, there is no doubt you can find the best pickleball paddles for you.
A pickleball paddle is not the same as a table tennis paddle and paddles for other sports are not approved for playing pickleball. You are not allowed to use a homemade pickleball paddle.
Pickleball Paddle Rules
Size
If you add the length to the width of a pickleball paddle, the total cannot exceed 24 inches and that includes everything: edge guard to the handle. It cannot exceed 17 inches in length.
Thickness
Pickleball paddles can be as thick as you want.
Weight
There are no rules regarding weight. However, this is one of the most important criteria in selecting the best pickleball paddle for pickleball players.
Surface Material
There are strict regulations regarding the surface material. Without any rubber or other material that can impart spin it is up to the pickleball player to generate their own spin.
The amount of surface texture is strictly regulated for the same reason. No sand or other abrasives or grippy paint. There are no rules about color scheme or logos but anything on the surface must be in good taste and not be reflective.
Other than weight, the surface material is the next most important criteria for choosing the right paddle. Today's paddles use fiberglass composites, graphite and carbon fiber as the most common surface materials and each has their own strengths and weaknesses.
Modifications
Once USAPA approves a paddle it cannot be modified materially except for building up the grip and adding tape to the head. But the overall length standard cannot be violated. Ever. So there.
3 Main Parts
1) Core
Other than wood paddles, players have found that pickleball paddles with honeycomb centers have two major advantages. The are significantly lighter than solid paddles and the honeycomb reacts very well with pickleball balls.
The big question with cores is what material should be used. The three major materials are aluminum, Nomex and polymer with polymer being the dominator in this category.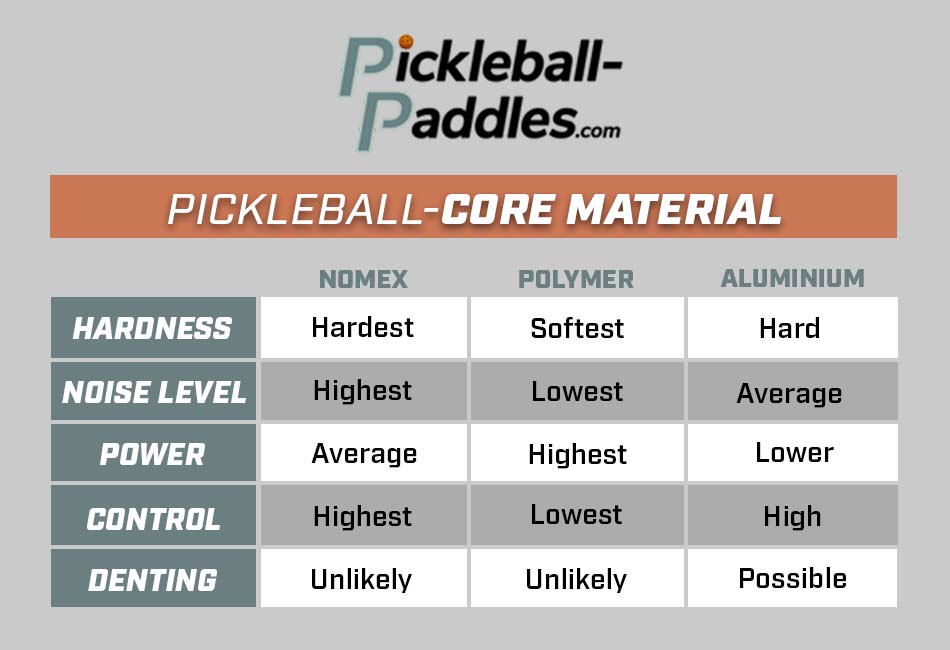 2) Surface
Pickleball paddles react differently with pickleball balls depending on the surface that is applied to the paddle face. Moreover, the combination of the surface with the core will also cause this pickleball equipment to play very differently from paddle to paddle.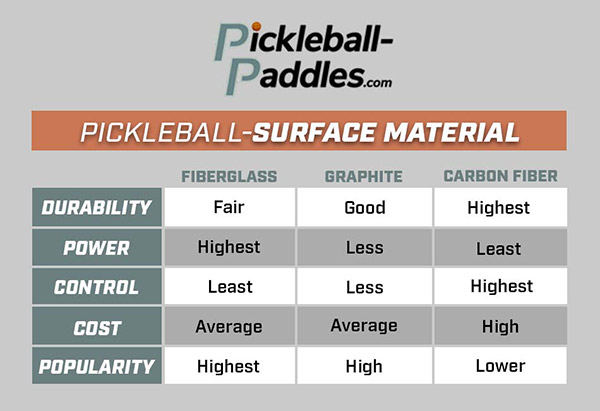 3) Grip
Three considerations regarding the grip you need to play pickleball.
Grip size is important both in terms of diameter and length. There is not as big a range of sizes as with tennis so if you can't get your size go down in size and then build it up.

Grip length is important if you have a two handed backhand. Look for a longer length if you do.

Grip texture is a matter of individual preference. The good news is, if you find the paddle you like but hate the grip, you can easily replace it yourself.
5 Steps to the Perfect Paddle
See our [Buying Guide] for details, but here are the key steps in deciding on a paddle.
Pick the ideal weight range for your ability and physical conditioning. In general, the newer you are to pickleball and to exercise, the more you need a lightweight paddle.

Decide on a surface. Fiberglass composite and graphite will play very differently so learn the differences and adjust your decision making accordingly. Don't be afraid of lightweight composite materials as they will be plenty durable for many hours of play.

Pick out the right core to go with your playing ability and selected surface.

Get the right grip size. With choices that are limited, you may have to buy a smaller grip size and build it up to the get the ideal set up for you.

Get out and play with it. There will be a "getting to know you" time period as you learn where the sweet spot is and what the best way is to play with this paddle.
Just remember, you are not stuck with this paddle for life. Many players carry multiple paddles to deal with various conditions. For instance, if you are playing with indoor balls, you may want a paddle that provides more pace than if you were playing with outdoor, faster balls.
What About Paddle Prices?
Certainly, budget is a consideration and paddles, especially at the professional end using exotic carbon material can range upwards of $200. But most players don't need to pay anything close to this kind of money.
Solid wood paddles are the cheapest, but they also are least likely to provide you with the opportunity to improve. Even some of the newer light wood models lack the finesse and power found in other paddles.
If you really aren't sure if you will like pickleball or if you are just buying paddles for a social gathering, wooden paddles will fill in the need. The other place they make sense is if you are a facility that needs paddles for any random players who happen to show up at the courts.
Pickleball Balls
An important part of basic pickleball equipment are pickleball balls. The pickleball ball is not the same as the wiffle balls from your younger days. Wiffle balls had holes on only one side and were made to curve.
In fact, the USA Pickleball Association governs the approved list of both indoor and outdoor pickleball balls. There is no rule as to the best pickleball balls for either indoor or outdoor play.
Outdoor Pickleball Balls
An outdoor pickleball game is subject to the elements including wind and pickleball courts that usually are asphalt or concrete. As a result, outdoor balls are slightly thicker and have more and smaller holes. Smaller holes make outdoor pickleballs less subject to wind.
Indoor Pickleball Balls
Unlike outdoor balls, indoor balls tend to be lighter with fewer but larger holes. Indoor pickleball may be played on a less abrasive surface and pickleball play will often have longer rallies.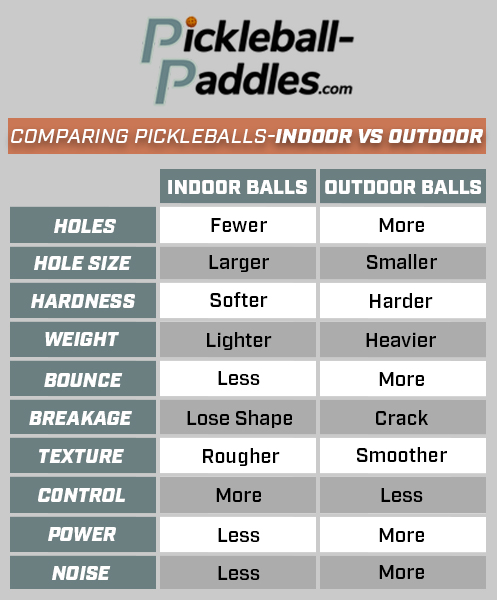 It is worth noting that you can play the game with any ball on any pickleball court, indoors or outdoors. But the general feeling is that pickleball games improve if you play with a pickleball ball optimized for the conditions.
Pickleball Nets
A complete set of pickleball equipment includes a pickleball net. If you play the game on a tennis court, it is legal to play pickleball using the tennis net. However, it must be lowered to regulation height.
The best pickleball nets are often portable. A portable pickleball net is easily assembled and is often used to make a temporary pickleball court. Be sure your pickleball net is regulation height!
A pickleball court is often created by using court tape on top of the lines for a tennis court or a basketball court. As these added lines are often placed across the lines to form several pickleball courts, a portable pickleball net is the only practical solution.
Pickleball nets can be used on any surface so you will sometimes see a pickleball net strung across a driveway or parking lot to make for an impromptu pickleball court. Pickleball players will do whatever it takes to find a place to play!
Pickleball Shoe
Quality pickleball shoes are important pickleball equipment that provide you with traction and support giving you the proper grip on the court. While many sports shoes can be used, it is important to have significant lateral support to move side to side quickly. Lateral support is not often a strength of running shoes.
Some tennis shoes are heavy by design. They give great support and can be especially helpful for bigger tennis players. However, in pickleball this additional weight can get in the way of quick footwork often required around the non-volley zone.
When playing indoors, having soles that are non-marking is usually a requirement to even walk on the court. Wood basketball courts are especially vulnerable to marking.
Deck shoes and hard soles should never be used to play any sport as they do not have the grip, padding or support needed to move around. They will also be the worst offenders on marking up courts of any kind. Just don't use them for sports - ever.
Pickleball shoes are also noted for being especially light. The short, quick movements of this game make the right shoes pickleball essentials.
Paddle Covers
Pickleball paddle covers are not standard pickleball equipment provided by paddle makers. The surface of your paddles is made to hit plastic balls and not to negotiate with keys, cell phones, and shoes.
For just a few dollars, paddle covers can prevent your paddles surfaces from getting scratched and dented. Wooden paddles don't need covers but they will typically not last all that long anyway.
Pickleball Bags
You certainly don't have to have pickleball bags for all of your pickleball gear. But if you are going to make the investment in pickleball gear, why not get a pickleball bag that is just the right size and shape for all things pickleball?
Pickleball Clothing
When you first begin playing pickleball, you are likely to throw on a pair of shorts and a tee shirt. And this is totally fine.
If you first played indoors, add some non-marking shoes and you are good to go. Outdoors, a pair of sweats might made sense depending on the temperature.
Over time however, your need to play pickleball at higher levels may lead you to looking at more specified pickleball gear.
Pickleball Shirts
A moisture wicking pickleball shirt is a really good idea in hotter conditions. Playing in heat and humidity makes for a very clammy feeling against the skin and these shirts will go a long way toward relieving this problem.
Pickleball Shorts
If you play in a private club, cutoffs are almost certainly prohibited so having a nicely finished pair of pickleball shorts will solve this fashion dilemma. Be sure your shorts have a pocket or two!
Pickleball Machines
A pickleball machine is a great idea if you are teaching pickleball. This will allow you to coach players while the machine feeds balls.
These machines are also great if you find yourself needing practice and you don't want to pay for someone to feed you balls. Developing the fine touch for dinks and drops is really only a matter of practice and these machines can really help develop that finesse.
Other Accessories
Playing outdoors means dealing with the damaging rays of the sun. A hat or visor will help keep those nasty things away from your face and scalp.
Sweat bands are highly useful if the conditions warrant. Having perspiration running into your eyes will get in the way of seeing the ball clearly and sweaty palms will make keeping a firm grip on the paddle a challenge you don't need.
The right pair of socks will help manage sweaty feet. But it is important to pair socks with the fit of your shoes.
A tighter fitting shoe will not work well with thicker socks and the opposite is also a problem. Blisters can result in extreme cases and that is a problem you can do without.
One Stop Shop
Pickleballpaddles.com is the perfect source whenever you want to buy pickleball equipment. Paddles, balls and clothing galore!
Questions?
While pickleball is a simple game to learn, sometimes you have questions about equipment. Call us! Our friendly staff of pickleball experts are here to help you every step of the way.