ProKennex Pickleball Paddles
There is no doubt that pickleball is fun but there is also some very serious science behind the making of pickleball paddles. Perhaps more than any other paddle maker, ProKennex has dug deep into the science of Newtonian physics and come up with pickleball paddles that efficiently manage the energy transfer from the ball to your arm.
Think of ProKennex pickleball paddles as the product of a science and design company focused on taking all those nasty vibrations that can make your elbow go "ouch" and make them a positive force and creating a highly efficient energy transfer to the ball. And doing it just in time to beat your competition. Cool!
How does ProKennex create the most energy transfer available?
Kinetic Energy Chambers
ProKennex kinetic technology is a very sophisticated way of taking their polypropylene core and adding in micro bearings so that the shock wave that occurs on contact is immediately absorbed. The result is an amazingly arm friendly paddle that is first cousin to their vaunted arm friendly racquet for tennis.
7 Layer Carbon Fiber Surface
The plush feel of ProKennex pickleball paddles is not just because harmful impact forces get soaked up like a sponge. The kinetic technology also relies on their proprietary surface to create a giant sweet spot.
Just like their tennis racquets, a paddle from ProKennex enhances performance with outstanding stability prized by advanced players and beginners alike. Pickleball and tennis elbow go bye bye with this singular dedication to eliminating vibration.
ProKennex Unique Shape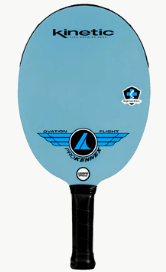 The science of ProKennex extends to the decidedly non-traditional shape on several models. The distinctive oval reduces air resistance further enhancing the most efficient energy transfer. Those kinetic chambers, the proprietary surface and the scientifically designed shape together create a paddle that not only looks different - it is different.
Who Should Buy a ProKennex Paddle?
1) Players with Arm Issues
Or if you are trying to prevent arm issues, ProKennex is the brand most focused on you. Vibration is never your friend and these paddles work very hard to keep it from hurting your performance.
2) Those Looking for a Lighter Paddle
Paddles like the ProKennex Pro Flight and Pro Speed are constructed to be lighter which further reduces stress on the elbow and shoulder.
3) Those with Smaller Hands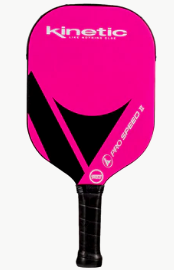 If you have a smaller hand and need a 4 inch grip, ProKennex makes paddles for you.
4) Fans of Their Tennis Racquet
The following their tennis program has developed is the exact template for their pickleball paddles. Take advantage of this technology transfer!
Finding the Lowest Prices
1) To get our mailing list exclusive offers, the newsletter join process is simple. When you join our mailing list, you will hear about actual sales and special offers.
2) Look for gently used paddles selling for less than the manufacturer's suggested retail price. The original selling price may be great, but getting a deal is better.
Amazing Customer Service
In addition to a huge selection of paddles and balls, look to pickleball-paddles.com to be your one stop shop for shoes and apparel for mom, dad, and the whole family. You need a pickleball bag too!
Questions?
Thinking about a gift for your pickleball fan in the family? Call us! Our friendly group of pickleball experts are here to help you every step of the way. We love pickleball too!