Head Pickleball Paddles
Perhaps you had a teacher who told you to go to the "head of the class." If so, it meant you were the best of the group. That same expression could be applied to Head pickleball paddles.
Head pickleball paddles join their tennis racquets and skis as benefitting most players in their respective sports. As dominant as Head is in tennis and skiing, it is only a matter time before you play with their pickleball paddles too.
6 Features of a Head Pickleball Paddle
With a huge lineup, Head has pickleball paddles for power hitters, control players, those who want a carbon graphite surface or those who want a fiberglass hitting surface. And if you are an island life fan, they even make pickleball paddles just for you!
1) Large Sweet Spot
Head knows the ball isn't always going to strike the center of the hitting surface. Yet, the average player still wants their pickleball paddle to help hit a good shot.
A massive sweetspot doesn't just happen - a pickleball paddle has to be designed that way. A larger sweet spot is a function of the materials and construction Head paddles bring to the party.
2) Extreme Spin Texture
With the rules from the USA Pickleball Association, the surface cannot have any grit or abrasion to generate spin. So, Head pickleball paddles follow the rules yet the ball will bite on contact and deliver spin from these slightly head weighted paddles.
3) Hitting Surface Choices
Since they have a paddle line for more power and one for more control you would expect to see both carbon graphite and fiberglass face options for the hitting surface of a Head pickleball paddle.
4) Comfort Grip
The softer feel of the Head ergo grip means you won't have your pickleball paddle twist during points. It also helps limit paddle vibration.
Be sure to get the right grip size. If you are in between sizes, get the smaller size and build it up with a Head paddle replacement grip.
5) Choices with Cores
If you decided you want a pickleball paddle with a polypropylene honeycomb core or a polymer core, Head makes several for you. You get to choose a pickleball paddle with everything you prefer.
6) Shapes to Shop
No matter if you like the standard wide body or a diamond shape or even a pickleball paddle with a narrower profile, their cutting-edge tubular construction helps to create your game the way you want it.
Multiple Pickleball Paddle Series
Radical Line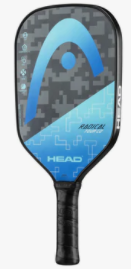 Designed for increased power, these include the acclaimed Head Radical Pro pickleball paddle. These are heavy weight paddles as the Head Radical Tour and others demonstrate.
Extreme Series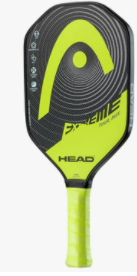 For the control specialists the Extreme is helpful with spin and placement which is not a strength of the Head Radical line. As a mid-weight with graphite and fiberglass options for the hitting surface some of these have the diamond shape making the reaching of a low ball substantially easier on account of the cut off corners.
Gravity Series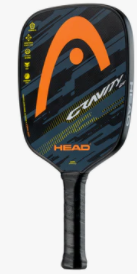 The Gravity Series has that huge sweet spot desired by so many players new to racquet sports. A sign that your swing isn't grooved yet is if your play has balls going in unexpected directions. The Gravity mid-weight can try to fix that.
Margaritaville Series
If your search is for a lighter weight paddle, your search is over as this is Head's lightest paddle. These also have an option for a diamond shape with a bit of an island country vibe too.
Pro Endorsement
In a sign that pros love Head paddles, champion Sarah Ansboury has put her name behind Head's pickleball paddles.
Shop for the Best
Pickleballpaddles.com is proud to carry a huge selection of paddles with the weight, length, and shape you search for. Be sure check out our newsletter join up and sign up to hear about great sales and specials.
See our amazing in stock clothing and shoes for the pickleball fanatic. And if you have questions, call our friendly team of pickleball experts. They really do know their stuff!