Pickleball Court Dimensions
As long as you follow the regulations set by USA Pickleball regarding pickleball court dimensions, you can put them anywhere you want. Yes, that means for casual games you can set one up in your driveway, backyard or parking lot but putting pickleball courts in a swimming pool might not lead to high quality competition!
With high quality portable net systems available for reasonable costs, it is even feasible to have temporary pickleball courts set up wherever a hard surface will take pickleball lines.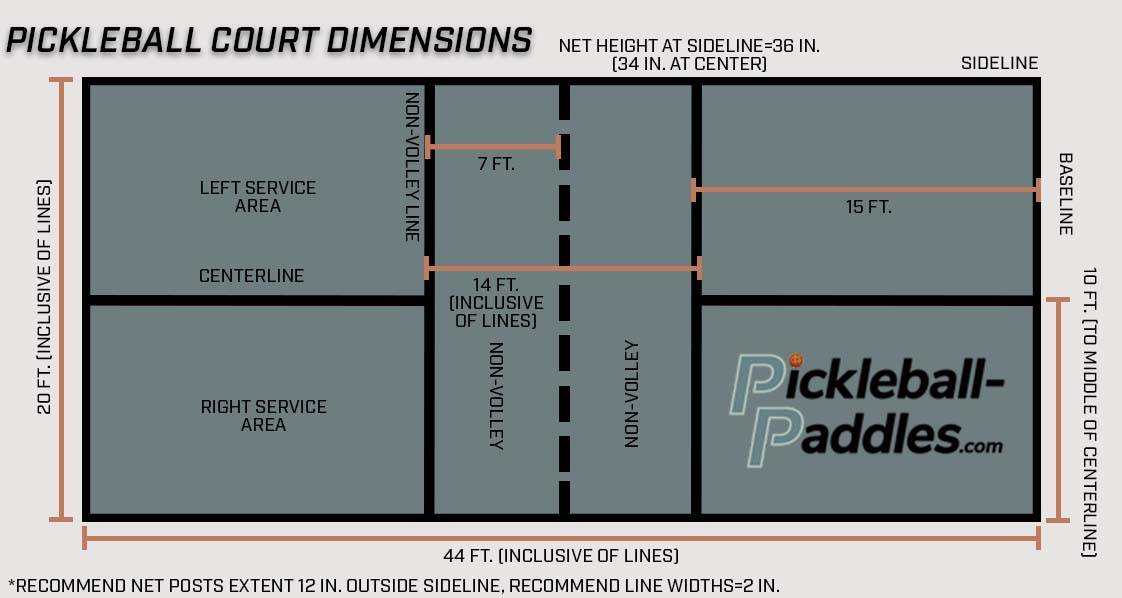 5 Regulations for Pickleball Courts
It doesn't matter if you are thinking about outdoor pickleball courts or an indoor facility - the regulations are the same. An indoor facility should have high enough ceilings to accommodate lobs.
The 20 feet by 44 feet dimensions for a regulation size pickleball court are non-negotiable and are inclusive of the lines.
There must be space provided around a pickleball court to allow players to move and react. The minimum overall playing area dimensions are 30 feet wide with an entire length of 60 feet, but the regulations recommend 34 feet by 64 feet or even more for a stadium court.
3). Pickleball Court Lines
Pickleball lines are two inches wide and should be a contrasting color vs. the court itself. Also, if the pickleball court is established over some other sport court, the pickleball lines should contrast with any other lines (but this is not specifically in the regulations.)
Non-volley lines are to be placed 14 feet apart bisected by and parallel to the net and run from sideline to sideline. The non-volley lines are included in the 14 feet as these lines and the entire non-volley zone (also called the kitchen) are not "in" during the serve.
In addition, a center line connects the non-volley line to the baseline. This line at the center creates the two service boxes at each end of a pickleball court.

Pickleball net height is not the same as for a tennis court. A pickleball net is to be 34 inches at the middle and 36 inches at the sidelines.
Posts for the net are to be 22 feet apart and an official net is 21 feet 9 inches wide. This is actually important as the rules allow the ball to be hit around the net during play.
While concrete and asphalt are common there is no official requirement for either. In particular, it is common indoors for material like wood or other sealed floors that are easy to maintain and provide secure footing.
An outdoor pickleball court should have fencing outside of the playing areas to contain balls hit during a pickleball game. This is also not required.
Local zoning laws will apply but care must be taken to get the dimensions right whether pickleball courts are built as new construction laying a new surface or over an existing court used by some other sport.
A tennis court is often the site of a pickleball court as they tend to attract a similar family of players. Sometimes the tennis court net is used for pickleball which is fine if it can be adjusted to get the height right.
If the net and posts are removed, it is possible to get 3 pickleball courts installed across a tennis court. A tennis court used this way is likely being permanently converted as removing a tennis net temporarily is relatively difficult.
Since pickleball courts are the same size as doubles badminton courts, you can play pickleball on them if you remove their net from the space and park a temporary pickleball net there. However, prior to play the kitchen and centerlines will need to be added.
The benefits of using a professional contractor are obvious. You may find contractors in your local area with specific pickleball court experience.
Before you walk out to the court for some fun in the sun, you will need paddles, balls and a great pair of shoes from Pickleballpaddles.com. Whether you play singles or on a double team, you will want to be properly equipped.
Apparel for women and men is another consideration. Private clubs may have a dress code for you to follow so check out our huge selection.
Call us with questions about the court or equipment. Our staff is helpful and friendly.