Paddletek
When your company is built around a single sport, even one growing like pickleball, you had better be good. So, when Paddletek pickleball paddles hit a market just over a decade ago, they were making a bet they really understood the game and what players really need.
Since then, their business has grown faster than most and Paddletek pickleball paddles have been adopted by some of the top pros in the game giving the company huge amounts of credibility and recognition as making some of the best pickleball paddles anywhere. The lineup has expanded dramatically too so now, virtually every pickleball player can find Paddletek paddles that will help their game.
Paddletek Innovations
Polymer Core
With this single stroke of genius, Paddletek's founders revolutionized the honeycomb core. The old Nomex cores wouldn't last, and aluminum cores would dent and have inconsistent sweet spots. Paddletek pickleball paddles are noted for years of play and a dynamic sweet spot.
Paddletek Paddles with Vibration Dampening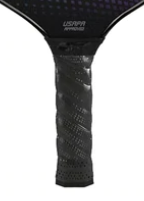 When pickleball was first invented, no one was thinking about vibrations caused by those solid wood paddles. But it quickly became obvious that arms can be fragile items.
Also, reformed tennis players who previously suffered from tennis elbow started reinjuring other more fragile items like elbows. Paddletek pickleball paddles very early on focused on reduced vibration as a fundamental part of their construction making even off-center shots feel relatively comfortable.
Durability
There are not many brands that truly make their paddles to last. Paddletek pickleball paddles should give you several years of play with normal care and attention.
Smart Response Technology
Paddletek has something of a science orientation when it comes to their sweet spots. They understand that the most accuracy comes when the energy from the ball is evenly distributed throughout the paddle.
Not only does this help manage the vibrations it also provides the maximum pop with control so needed by players. A paddle like this is sure to put your shot into another gear creating winners and superb placement. If you make pickleball central to your athletic career, you will appreciate why a paddle from Paddletek deserves a place in your bag.
3 Series of Paddletek Pickleball Paddles
Paddletek is focused on the player and their needs - always a good sign. They basically have three groups of paddles depending on what you want from a paddle.
1) Bantam Series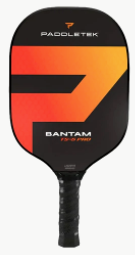 If you are looking for power, you have found it here in big time supply. With several different configurations and a paddle weight for the aggressive player, this bad boy wants to hit the ball by your competition - over and over again.
2) Tempest Series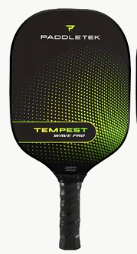 For the player who is in constant search of a fresh supply of shots to win points, the Tempest comes out of your comfortable bag just to make opponents uncomfortable. When your game is finesse and pinpoint control, this is the series for you.
Phoenix Series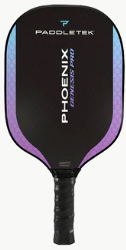 If your game demands all around playability, you need a Phoenix paddle from Paddletek pickleball. You want your game to find another gear with pace when you need it and supreme accuracy every time. You want it all.
Pros Use Paddletek
With pros, their very livelihood depends on wins and losses and a paddle can decide which players win and which ones don't. That's why a bunch of names have picked Paddletek.
Kyle Yates has won just about everything there is to win in pickleball. Titles galore. He plays with Paddletek.
Leigh and Anna Leigh Waters are a fierce mother daughter combo who are piling up the wins all over the country. No one wants to play them.
Scott Moore is an inspiration to all tennis players converting to pickleball. He's won the Triple Crown in his age group 6 times. Yup, 6 times.
Catherine Parenteau is a doubles phenom who started playing in college at Michigan State. Everyone who teams up with her comes up a winner. Paddletek is her paddle too.
Shop With Us
Pickleball-paddles.com is proud to have a gigantic selection of paddles and all your necessities for pickleball. Get your bag, shoes, and accessories here.
If you have questions, our friendly team of pickleball experts are here to take your calls. We love to help so call us!