Pickleball is one of the newest games in the history of games using a ball. But finding the best pickleball balls is just a matter of doing some homework with us and then doing some of your own product testing. That is, getting out and playing pickleball - and that isn't so tough after all.
The history of ball sports extends back thousands of years and basically, ever since there have been people, there have been balls. But competitive ball sports are more recent and the very first may have been invented in the Americas. Of course, there, if you lost, there was the risk of you paying a much higher price than buying drinks for your friends after a fun game of pickleball.
What is an Official Ball for Pickleball?
The USA Pickleball Association (USAPA) has set the official standards for pickleball balls. These are the standards for tournament play and are strictly enforced in that setting especially the USAPA pickleball national championships.
They have an entire approval process, and all manufacturers must submit their balls in order to be approved for tournament play. Their approval, if granted, must be noted on the balls.
Note that unless it specifically says "Approved" it is not approved. Some brands advertise something like "Meets USAPA Standards" but that is their statement, and it does not mean they have been approved.
However, for recreational play, you don't have play with pickle balls approved for tournament play. There may be a slight price difference between approved and non-approved balls.
7 Important USAPA Standards
USAPA has exacting standards with the goal to have a ball with a consistent bounce and a straight ball flight - unless the player is skilled enough to impart spin and pace sufficient to force the ball to bend. They also want consistency in many other areas.
You know you are buying the best pickleball balls as they are marked "USA Pickleball Competition" or at least have the notation "USA Pickleball Approved."
The standard size is 2.97 inches to 2.87 inches in diameter. Now THAT is a tight standard!
They want a perfect or nearly perfect sphere such that roundness does not vary by more than .02 inches. This is one of the issues with old pickleballs: they get bashed around enough after a few games on hard court play to get out of round or they get left in a hot car causing them to warp.
New balls kept in reasonably normal temps will give a more consistent flight and a consistent, good bounce. If the ball won't fly straight or bounces in uneven ways, check out it's roundness by rolling it on a level surface. If it is out of round, replace it immediately.
The USAPA will reject both indoor and outdoor pickleball balls if they have any significant variations to the surface. Significant variations will make the ball play very differently as it comes off the pickleball paddle and the USAPA really wants a level playing field with wins and losses dependent on skill and not on equipment.
Forget about heavy being a description for pickleball balls. They must fall into a range of .78 ounces and .935 ounces.
Yes, that is less than one ounce per ball. No wonder they will crack eventually - sometimes due to powerful hitting and sometimes due to play in chilly temperatures. Replace any ball with any crack - no matter the size.
If you are looking for some kind of artistic statement for your indoor and outdoor balls, you are likely to be disappointed. They must only be a single, solid color.
But you can have any color pickleball balls you want. Some players believe indoor pickleballs should be lime green and outdoor pickleballs some other color that would contrast with green wind screens and background landscaping. This is really a matter of personal taste.
All of the top pickleball balls meet the bounce standards called for by the USAPA. But more importantly, they should keep that bounce for several games.
Be aware though, they do lose bounce so replacing a pickleball ball every 3 to 10 games to make sure the ball bounces consistently and will fly straighter is better for competition. But this really depends on how hard the ball is hit, the abrasiveness of the court surface and the temperature in which the game is played.
The rules allow any number of holes between 26 and 40. They must be evenly spaced around the pickleball ball.
Other than being circular there is no regulation on the size of the holes. Generally, indoor pickleball balls have fewer but bigger holes and outdoor pickleball balls have more but smaller holes.
2 Categories of Pickleball Balls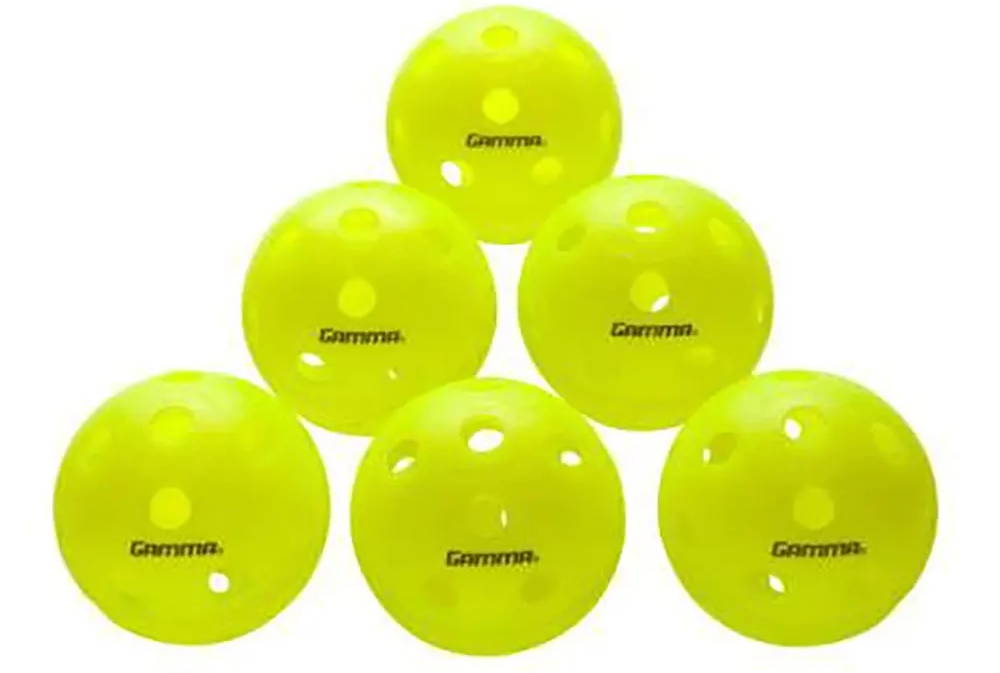 When you play indoor pickleball, you are operating in a more controlled environment than if you are involved in outdoor play. Indoor pickleball does not need to compensate for wind interfering with your ability to hit straight.
Furthermore, playing indoors will have a consistent temperature that will probably be in a normal rage so indoor pickleball balls won't get brittle in the cold or soft in the heat both of which can happen with outdoor pickleball balls.
Indoor pickleball balls also do not have to deal with the impact of UV rays or direct sunlight of any kind. This means indoor balls will provide for more consistent wear and tear during indoor play.
As mentioned earlier, indoor balls will usually have fewer but larger holes. This combined with the fact that they tend to be a bit softer than an outdoor ball has significant implications for play.
Indoor balls tend to be easier to spin but there is a tradeoff for this. An indoor pickleball ball will not pop off the surface of the pickleball paddle with as much pace as most outdoor balls.
Durability of Indoor Pickleballs
There are lots of variables related to durability. Both indoor and outdoor pickleballs will have some staying power but an indoor ball with the larger holes is subject to cracking and the softer plastic will get out of round more quickly than an outdoor pickleball ball.
Noise Level of Indoor Balls
Let's be honest here. Both indoor and outdoor pickleball balls have a sound that can be difficult for some people to get comfortable with.
With indoor play being enclosed, there is a desire for quiet pickleball balls, especially if they adjoin tennis courts. As a general rule, the somewhat softer materials in indoor balls will mean marginally less noise.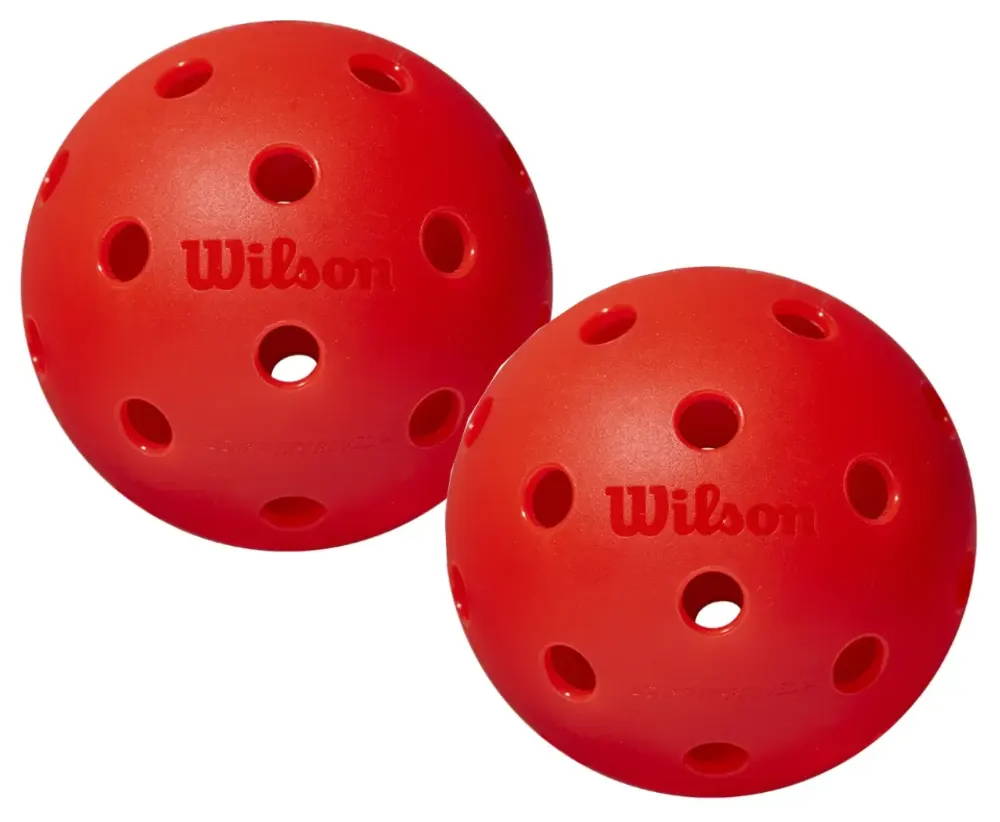 Outdoor play means you are dealing with the elements of sun, wind, heat and cold. This is why the outdoor ball is built differently to help deal with the conditions found in outdoor play.
Outdoor pickleball balls are designed to plow through wind. As a result, the best pickleball balls for outdoor pickleball will tend to be harder.
In addition, an outdoor pickleball court is much more likely to be textured to provide better footing. Playing outdoors on these courts will cause balls to wear more quickly.
Playability of Outdoor Balls
Being harder complicates the process of spinning the ball - it simply is tougher. On the other hand, outdoor balls will really pop off the surface of the paddle leading to more pace.
To minimize the impact of wind, there are smaller holes in outdoor pickleball balls. To try and get some spin though, there will be more holes in outdoor pickleball balls.
The best pickleball balls will hold up for perhaps 10 games of an average hitter. With tennis balls, where there is immediate drop off in playability, other outdoor balls used in other sports like pickleball will last longer - but not indefinitely.
When outdoor pickleballs do break it will tend to be less often then by cracking and less often then by getting out of round. Outdoor pickleballs are especially vulnerable in colder weather where the pickleball ball is getting bashed by big hitters.
Outdoor Pickleballs and Noise
Some communities are especially sensitive on the issue of noise - especially from early risers and night owls. As a result, pickleball players need to be sensitive to association rules regarding the use of outdoor courts.
Outdoor pickleballs can be noisier especially if used with noisy paddles. In communities with noise restrictions, it would be wise to search for a versatile ball that uses a soft plastic even if it is an indoor ball.
How a Pickleball Ball is Made
There are two different manufacturing methods- both of which will result in a quality, approved ball. The best of the competing balls makes sure that batch after batch will produce a great ball for fun and competition.
Rotational molding is a common practice used to make all kinds of hollow shapes of all sorts of sizes. Here, the plastic is put into a mold which is then spun to fill up an entire area.
There is a complete sphere produced by this method. Generally, there are drilled holes which actually can be beveled. There are brands who assert this beveling effect results in more spin easily applied by many players.
The main advantage of this process is that there is no need to meld any pieces into a whole pickleball ball. A top ball with these precision drilled holes is a bit of a trend with outdoor pickleball balls today.
Injection molding of pickleballs makes two halves that are then fused together. This fusing shows a line but, by rule there cannot be significant ridge impacting the flight of the ball.
It is thought that this method creates a more consistent ball particularly with the precision drilled holes. Generally used for indoor balls, a top ball in this category will have a remarkably similar play pattern from ball to ball.
As you might guess, the trade-off for this consistency is the risk of the ball splitting even with the exceptional seam welding found in today's technology. The reality is that the seam plus the larger holes than those found in outside balls will always have a difficult time lasting longer than a one piece ball produced by rotational molding.
When Should Pickleballs be Replaced?
Even the best pickleball balls have to be replaced after playing with them. It doesn't matter if you are playing with Dura balls or a Jugs ball or any other balls, they are going to wear out.
Watch for cracks along the seams of two piece balls or those extending from one hole possibly to another. Usually, you will notice a crack by the odd sound striking the ball will make and the odd angles they will take after being struck.
Replace these no matter how big the crack is since it will impact every shot - usually in unexpected directions.
Middle aged athletes are not the only thing that can get out of shape. Even a top ball from Franklin Sports can get out of round especially if it is subject to heavy hitting or hot weather.
You can tell if a ball has lost its shape by either spinning it in the air and observing the rotation or rolling it on a flat surface and seeing if it travels in a straight line. You will also notice that shots will tend to go in somewhat unintended directions.
As soon as a ball gets into this condition it should be discarded. Play will be impacted if the ball is kept in the game.
3) After No More Than 10 Games
This is clearly just a rule of thumb. Heavy hitters playing on a highly abrasive asphalt pickleball court will want to replace sooner than this. But even if your group has more finesse hitters not clubbing the ball with full strength, the ball will get soft spots or lose some its bounce.
Do yourself a favor, get some new balls regularly and you will notice the quality of play goes up. And it won't cost you very much either.
Pickleball-paddles.com is a full service pickleball supplier with everything you need to maximize your fun at pickleball. A huge selection of paddles.  Shoes to fit almost any foot. Apparel to make you comfortable on and off the court. We have it all! If you will play outdoors, don't forget the sunglasses and hat for sun protection.
Please feel free to call us. We have a terrific group of friendly pickleball experts on staff who can help you with everything pickleball. And our clearance prices cannot be beaten!