How to Measure Pickleball Paddle Grip Size
When you are figuring out how to measure pickleball paddle grip size for your first or any new paddle, there is a tendency for people to over complicate the subject. Then there are those who simply ignore the topic. Both are asking for trouble.
It really isn't that complicated, and we show you how to do it right: simply and easily. Then you can buy the right size and not worry about it ever again!
Why is getting grip size right important?
The pickleball paddle is an extension of your arm. The grip is the vitally important transition point between the arm and the pickleball paddle.
A word about handle length: unless you have a two-handed backhand, stick to the regular length handle. If you buy the longer length handle, it will probably reduce the size of the face and most people prefer a paddle with a larger sweet spot.
The last thing you want to think about when playing pickleball is the comfort of your hand. You just want it right the first time and every time.
Anything other than this will be an unwelcome distraction. Pickleball is fun and it should feel that way all the time.
With blisters, having a firm grip is just about impossible. They hurt too.
Having the correct pickleball paddle grip size is a huge help in avoiding blisters. Having the right type of grip is also a factor (see below.)
Having tennis elbow (or pickleball elbow) is no joke and no fun. You can go a long way toward avoiding this painful injury by having the right pickleball paddle grip size.
Grip size is one of the biggest factors in causing elbow issues, but it is not the only consideration. Things like the pickleball paddle weight can also contribute to this problem. Also, your physical condition and how you hit the ball and playing style are all factors too.
Just like when a tennis ball hits the string face, energy in the form of vibrations is sent down into the handle of most paddles. Tennis rackets are notorious for vibration and entire lineups of tennis equipment are built around absorbing and preventing vibrations and tennis racquet grip size follows the exact same procedure as described below.
The perfect paddle handle will help absorb vibration and the grip reinforces that construction. It is good to note that if you hit the ball near the tip of the paddle, vibrations are more likely and more severe.
Correct Paddle Grip Size Improves Play
Pickleball players don't need injuries and the right pickleball paddle grip size will help avoid them. But just as important, the wrong pickleball paddle grip size could be getting in the way of improving your game. How is that possible?
Impact of Smaller Grip Size
Generally speaking, a smaller grip size allows more wrist action resulting in more spin off the paddle face. Sounds great right?
But this also stresses the tendons and ligaments in the elbow, and we know what that means right? Yep, risk of injury.
Smaller size grips can also help with more control of the pickleball paddle and make for a lighter paddle which is a particularly good idea for beginners. So, as you can see these make for a smaller, more nimble pickleball paddle but if the result is players swinging extra hard thanks to the lighter weight, injury can occur.
Imapact of Larger Grip Size
Larger sizes are associated with a heavier paddle and the power it can generate. A large grip is sometimes requested by tennis players whose dominant hand is physically well developed.
A heavier weight has a similar risk of injury. A few extra ounces of any weight, from grips or any part of paddles can be tough for newer players.
A pickleball paddle with a too thick or too thin grip are not actually helpful in the long run. However, trying one grip size larger or smaller than the ideal size can be tried without much risk.
2 Ways to Determine Grip Size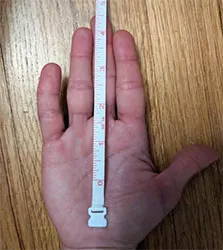 Grip sizes are all based on the circumference of the handle. Most adults need something from 4 inches to 4 5/8 inches.
The proper measurement begins from the middle crease (or bottom crease if there are more than two) running horizontally in the palm of the hand. With fingers extended, the distance to the top of the ring finger gives you the right size for a pickleball paddle.
Determining grip sizes using the index finger is a long established practice that should work in most cases. It starts with grasping a paddle with a comfortable, natural grasping at the bottom of the pickleball paddle. (A tennis racquet will do just as well.)
Insert the index finger of the opposite hand into the gap between the tip of the fingers and the palm. If there is no room, the grip size is too small. If the index finger cannot touch both the tips of the fingers and the palm, the grip size is too big.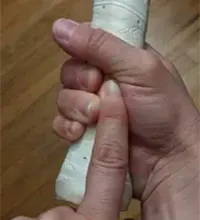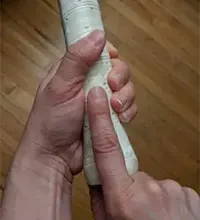 Graphite Paddles vs. Composite Paddles
When it comes to grip size it doesn't matter whether you have a fiberglass composite or graphite face. But your next pickleball paddle search certainly examine both of these options. See our article discussing this very topic.
Paddle Grip Size Adjustments
Increasing the size is a common DIY project involving building up the grip but reducing the size is not practical. See our article on increasing the size to see how it easy it is!
If you hand is in between sizes, always buy the smaller size and use overgrips or a replacement grip to make it perfect.
While there are some purists who swear by leather versions, most people use the far less expensive option of some kind of synthetic or plastic blend. Your next pickleball paddle is very unlikely to have leather as it comes from the factory.
There are pickleball paddles with grips that are really quite flat and others with raised ridges. This is very much a personal preference item with the ridged version good for increasing the size slightly. The flatter style is less likely to cause blisters but good quality models, if installed correctly, are unlikely to cause blisters in any case (assuming the right size.)
Finding the right grip is usually a matter of trial and error. They are so incredibly inexpensive it is worth it to try several.
There is a huge range of choices to examine. All the big brands make them and since they need to be replaced regularly, it just makes sense to try out various options until you find the perfect option for you.
Be sure to check out our huge selection of paddles, shoes and apparel for all your pickleball needs!