Pickleball Paddles: Composite vs Graphite Paddles
The debate regarding pickleball paddles: composite vs graphite paddles is confusing and unfortunately some paddle makers like it that way. Buying pickleball paddles ought to be as fun as the game itself so your friends at pickleball-paddles.com are here to make the discussion as straightforward as pickleball itself.
With a couple hundred companies making both composite pickleball paddles and graphite pickleball paddles the choices are growing as fast as the game of pickleball. While choice is generally good for consumers, in this case, there seems to be widespread misinformation on this topic.
Like anything else it is important to review the terminology and that begins with the parts of a pickleball paddle. There might be a bit of science mixed into the discussion, but no worries! There will be no quiz at the end!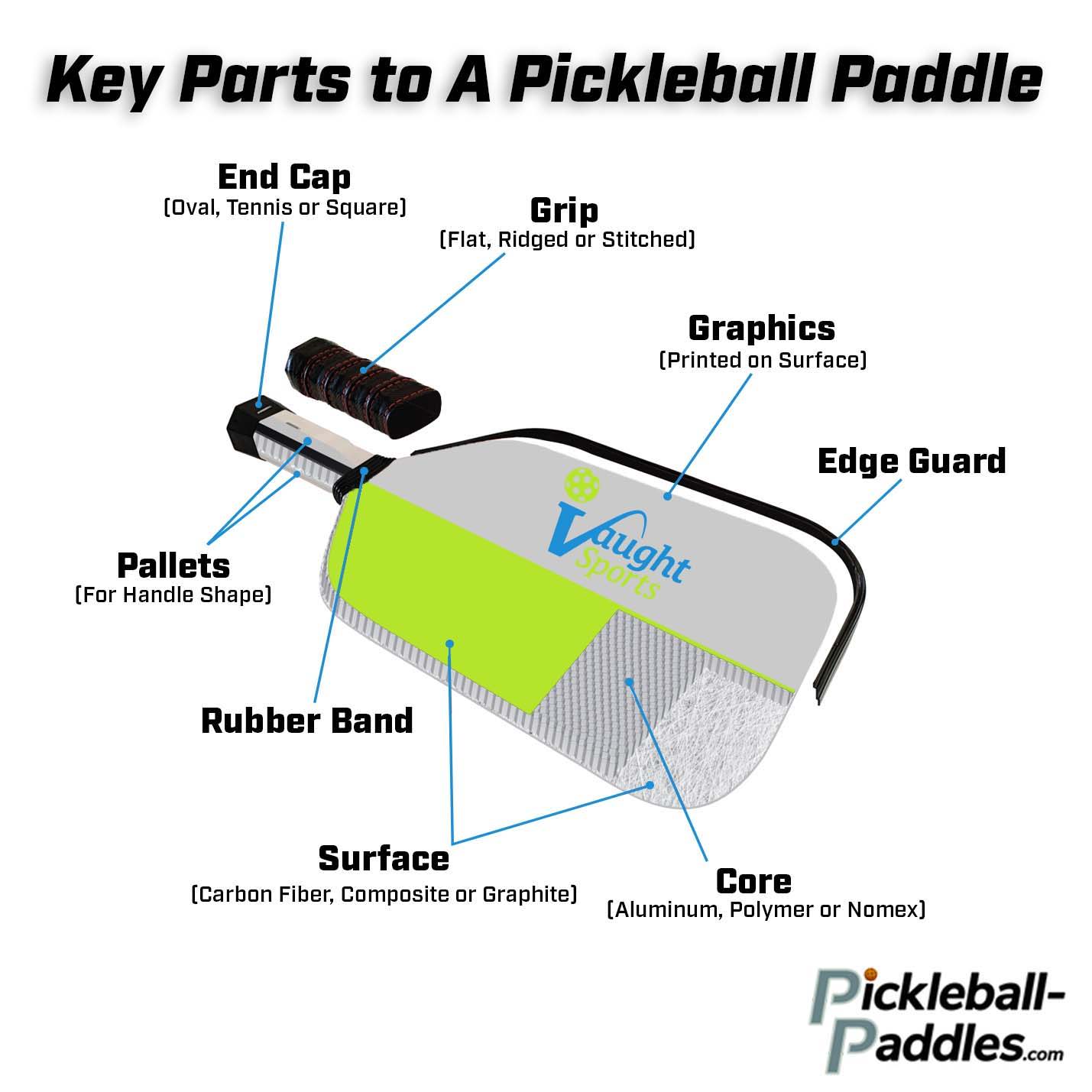 Anatomy of Pickleball Paddles
The three most important parts of a pickleball paddle are the surface materials making up the paddle face, paddle cores, and paddle grips.
In discussing composite pickleball paddles and graphite pickleball paddles, the conversation is surrounding the face of the paddle - the surface that contacts the ball. This very thin layer of material is governed by strict rules issued by the USA Pickleball Association (USAPA.) In fact, every aspect of paddle construction pivots off of these rules.
It is important to understand that these standards are enforced for all sanctioned tournaments but technically, in friendly matches you could play with anything. Be careful about buying paddles that say something like "complies with USAPA standards" but don't have the official stamp - especially if you want to be involved in tournaments.
As a practical matter, most people play with pickleball paddles that have gone through and passed USAPA testing. Look for their official stamp of approval on the paddle face. This is why playing with homemade paddles is illegal and simply not done.
The roots of pickleball paddles are with wood. While wooden paddles are perfectly fine for a one-off picnic or for schools to keep in stock for classes to use in gym class, they are very hard for most players to use regularly.
Because they are solid wood or wood products and do not have a honeycomb core material, wooden paddles are heavy and as a result can cause injuries. They also don't last and can be noisy.
The big advantage wooden paddles have is they are the cheapest pickleball paddles. But don't make a mistake in buying these for your regular personal use. While they are typically found in an inexpensive pickleball paddle set, wooden paddles have been eclipsed by composite paddles and graphite paddles.
Good quality, non-wooden paddles at the entry level are available in the $50-$80 range whereas a wooden paddle might be only $20.00. You won't regret making the investment.
Typically, the face for composite pickleball paddles is primarily made of fiberglass due to its light weight yet sturdy construction. Fiberglass paddles like this can have any kind of core material (see below) and are available from most paddle makers.
Graphite pickleball paddles are made from a very hard carbon material that also can cover any kind of honeycomb core material. A graphite paddle is prized for being a lighter paddle than most others.
While similar to a graphite pickleball paddle in the material being used is carbon based, they are not the same. When used as surface materials, carbon fiber requires a different production method but like with a graphite pickleball paddle, they are incredibly strong yet light.
Other than a wood paddle, all fiberglass and graphite paddles, whether a lightweight paddle or a heavy paddle or anything in between, have a honeycomb style construction. This keeps weight down and responsiveness up. When a Boeing engineer invented the first honeycomb core, he set off a revolution in paddle technology.
An aluminum core is strong and light, but it has two disadvantages: it dents, and it can be noisy. An aluminum core can still be found inside of many paddles but it is slowly losing market share to the others.
An aluminum core can be used with graphite pickleball paddles or composite pickleball paddles. There is usually less control with an aluminum core too.
Polymer is now the most popular core material. Durable and light, makers like it for helping to keep costs down yet meeting quality standards. It is used in both composite paddles and graphite paddles.
As a softer material, polymer pickleball paddles are usually the quietest paddles. For anyone playing in a community where noise is an important consideration, polymer is the perfect core to buy regardless of whether the preferred surface materials are fiberglass or graphite or carbon fiber. Some communities will actually maintain a list of approved quiet paddles and most of them will be polymer.
While adding significantly to costs, some players are addicted to playing pickleball with Nomex inside either a graphite paddle or a composite paddle. They think the paddle feels more in control and allows perfect shot placement.
Since Nomex is a relatively hard material, they can create a noisier paddle than any particular paddle that has polymer.
The grip is what connects the hand of the player to the handle of pickleball paddles regardless of whether they are graphite paddles or composite paddles.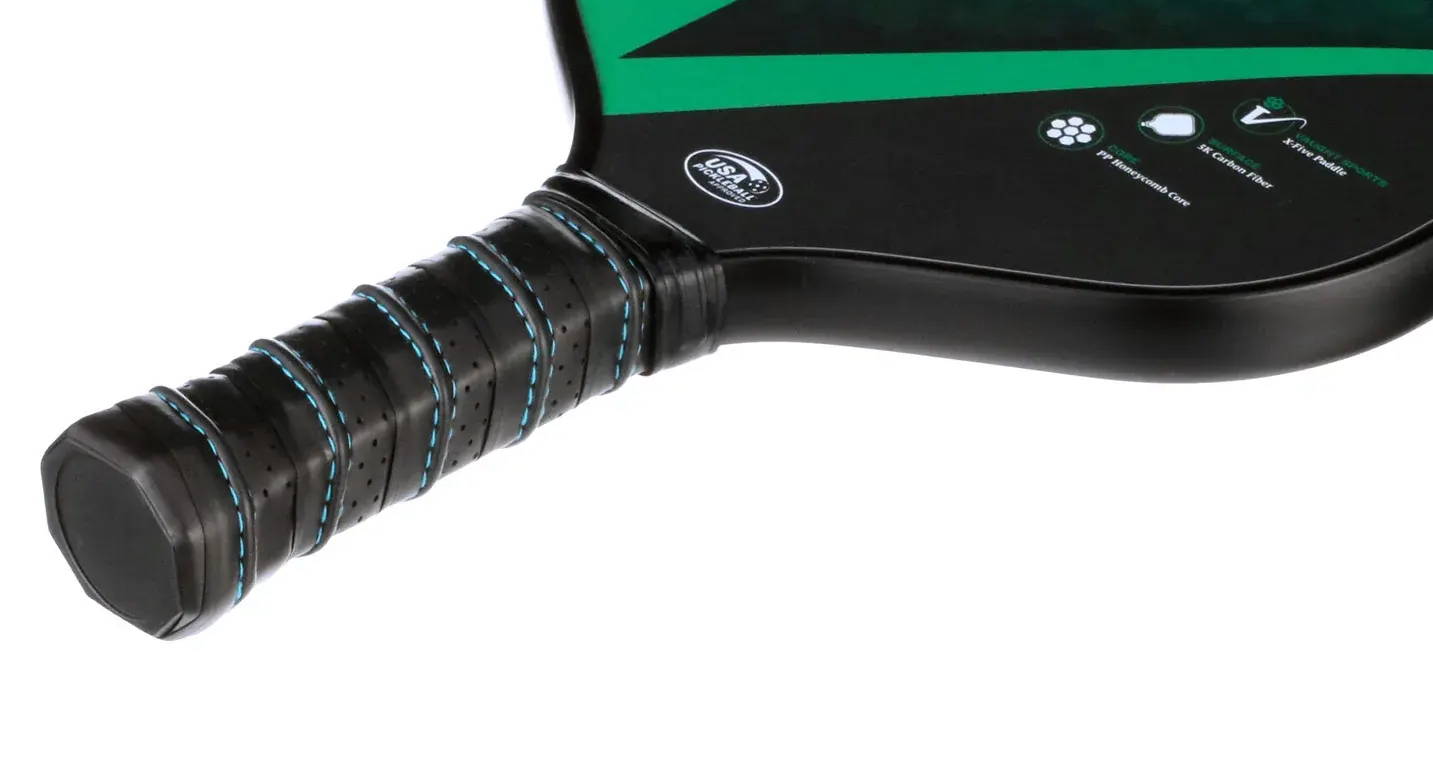 Grip size is important for a composite pickleball paddle and a graphite pickleball paddle. Unlike with tennis grips, you might not find the correct grip circumference in a pickleball paddle.
It is not advisable to have a larger grip size than you need. When in doubt buy a smaller grip and build it up. See our article on finding the right grip size including the index finger test.
If you see a longer than normal grip, these are normally used by players who want to hit two handed backhands. A pickleball paddle like this could be a graphite paddle or a composite paddle.
But you don't have to use a two handed backhand to buy pickleball paddles with this style of grip. These have a somewhat less "head heavy" weight distribution which makes for a pickleball paddle favored by finesse players.
Graphite vs. Carbon Fiber vs. Composite Paddles
When looking at graphite vs. composite paddles or any other paddle surface it is important to note that there are exceptions to all of these general tendencies. For example, while composite paddles are typically considered to be a heavier paddle it is certain possible to manufacture a graphite paddle that is a heavier paddle. Do your homework!
All other things being equal, carbon fiber will yield lighter paddles most of the time. This is also considered one of the hardest substances on earth.
A graphite paddle is likely to create lightweight paddles too. This carbon based substance has been the favorite surface for many players as it has a cost advantage over carbon fiber. There are some heavy weight graphite paddles on the market.
Composite Paddles (Fiberglass Paddles)
A fiberglass paddle will often be just a bit thicker on the surface and is often found in a mid weight pickleball paddle or a heavier paddle. But there are exceptions as lighter composite pickleball paddles are made too.
Wood paddles will generally be on the heavier end of paddle weight.
Fiberglass Pickleball Paddles
Partially due to the incrementally higher weight, fiberglass paddles will help generate power more so than other pickleball paddles. Players new to the game will often find fiberglass paddles help them with passing shots and getting depth on shots.
Graphite paddles are often seen as finesse oriented pickleball paddles. While power is certainly there, a competition of graphite vs. fiberglass pickleball paddles is likely to be won by the fiberglass paddles.
When a carbon surface makes contact with the ball it is likely to not have quite as much pop but when compared to fiberglass and graphite paddles it is more likely to yield the shot expected by the player.
For the player who brings his or her own power to the shot but maybe is lacking control over that power, carbon fiber surfaces are made for them. As the super hard surface, carbon fiber simply puts the shot exactly where the player places it.
Graphite paddles also have very hard surface materials and therefore are excellent for controlling shots. For the player who relies on pinpoint placement for their shots, graphite paddles are important resources.
Fiberglass pickleball paddles may have an advantage when it comes to power, but the tradeoff comes in the area of shot control. But for the player graduating from wooden paddles or for the player who does not need help with placing those dinks, fiberglass paddles certainly are attractive.
Since there is no honeycomb core, a wooden paddle will always be at a disadvantage regarding control over shots.
While all pickleball paddles wear out in a few years (or less depending on use) carbon fiber will hold up the longest. If it is good enough for the space program, it is good enough for pickleball paddles!
Also very durable, graphite paddles should hold up well. Of course, the player who is prone to temper tantrums or throwing their paddle will wear out the edge guard and the surface more quickly even with graphite paddles.
Since it is just a bit softer, a composite pickleball paddle may wear just a bit more quickly. Having a paddle cover is an especially good idea for protecting fiberglass pickleball paddles.
Generally lacking any edge guard means wood paddles won't hold up especially when playing outdoors on asphalt or concrete courts.
Best Pickleball Paddle for Spin
Since the USAPA regulates how much texture can be applied to any surface, it is important to get an approved paddle especially if you ever intend to play in tournaments. The textured surface along with the relative hardness or softness of the surface (as well as the player's skill) will determine how much spin is applied to the ball.
Other than for high end and pro players, lighter paddles will help the average player generate more paddle speed which in turn will help generate spin. And more paddle speed will mean more spin if that is how the player is trying to hit the ball.
Also a very light surface, carbon fiber will also be your allie in generating spin. The textured surface on this kind of paddle will help some too.
Composite surface materials are a bit softer but heavier. The textured surface here must comply with USAPA regulations too.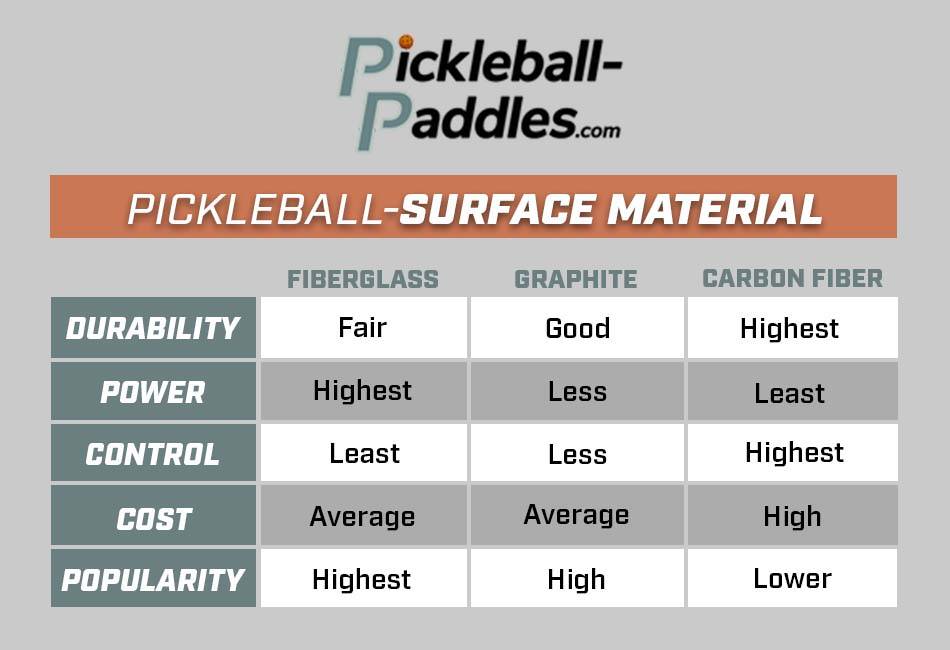 What About My Tennis Elbow
Tennis elbow can be much more than an annoying condition. It can be a serious problem and you should see your doctor if you suspect you have tennis or pickleball elbow.
Just like with a tennis racket, a case of pickleball elbow may be caused by playing with the wrong kind of paddle. If you are shopping for a new paddle due to elbow or arm pain by all means stay away from heavier paddles.
A lighter paddle may however, not be the best idea either as swinging harder can also create arm issues. A high quality mid weight paddle is a good compromise.
Paddle length is a factor too. The longer, narrower paddle length is attractive for being able to extend reach. But hitting balls near the end will have extra vibration and torque which is not good for pickleball elbow cases.
Therefore, a new pickleball paddle with a graphite or carbon face may give you more choices to look at. But a composite that is not in the heavy class would also be a solid option.
Sticking with the standard wide body paddles will also give you a bigger sweet spot further reducing vibration and stress on the elbow.
Whether you are looking for your first pickleball paddle or your tenth, pickleball-paddles.com is pleased to offer a huge selection of your favorite paddles. Carrying the latest and greatest like those from Vaught Sports as well as the tried and true means you get to pick what is best for you and your game.
Quality pickleball paddles range from about $60 to as much as $200. Pickleball-paddles.com takes great pride in offering great prices all the time. But there are times we can offer sales prices so be sure to check out our clearance site too.
With a gigantic selection of apparel for women, men, boys and girls you are sure to find the right brands at the right prices. And shoes? Of course, you should have a good pair for pickleball too!
Pickleball bags make great gifts for Mother's Day or Father's Day or a birthday for the pickleball fanatic in your family. Be sure to throw in some new pickleball balls too!
Call us! Our friendly team of pickleball experts are here and standing by to answer your questions. We love pickleball as much as you do!