Adidas Pickleball Paddles
There is an old expression: "Go big or don't go at all." Adidas pickleball paddles have clearly decided to "Go Big" as they have launched a huge lineup of pickleball paddles and are obviously very serious about getting into pickleball in a "big" way.
Adidas is best known for their apparel and shoes but that is only a slice of their empire dedicated to sports of all kinds. Since the Adidas line up of pickleball paddles number eight and growing, it is clear they are in this for the duration.
Unique Features of Adidas Paddles
High Density Core vs. Low Density Core
When you are trying to separate yourself from the competition, it is vitally important to have something different to offer and Adidas does that with their cores. Depending on the model, you will find two different densities.
A core with high density honeycomb (HD core) will help generate power while low density (LD core) is all about control. When shopping Adidas pickleball paddles you have a choice of either one. Most paddle companies have no such choice available.
3 Face Materials
Many companies have graphite and fiberglass composite and some have carbon fiber. But Adidas pickleball paddles have all kinds of innovation going on.
1) Carbon Aluminized
The combination of aluminum and carbon is a whole new take on what goes on a pickleball paddle surface. The key here is to provide a comfortable feel and control during any shot during the game.
The technology behind this is to enable those tricky finesse shots that can be really hard to execute. This is an example of a strong R&D department coming up with innovation while keeping the price under control.
2) Carbon Fiber
If you are looking to hit more high speed shots, the paddles with this surface deserve your close attention. A pickleball paddle with carbon fiber may carry a higher price tag, but the performance Adidas brings means your play will benefit.
3) Fiberglass
Mostly found in their entry level paddle line up, Adidas provides a bit more pop on the ball as you would expect with fiberglass. Hitting more secure shots anywhere from base line to the net is the objective for Adidas pickleball players in this category.
Different Shapes
The pickleball market feels conflicted about shape so Adidas makes pickleball paddles with either the traditional shape or a slightly elongated shape. This is a sign that Adidas is listening to the market.
The narrower but longer paddle will help you return that hard to reach shot. But your game performance will suffer if you hit lots of off-center shots as these pickleball paddles have a smaller sweet spot than the more traditional shape.
3 Series of Paddles
1) RX Paddles Series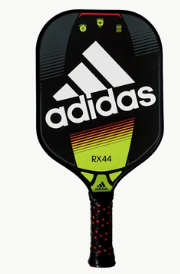 Pickleball has lots of new players who don't feel very secure about their game. With a very approachable price, the idea of these paddles is to provide enough power to be competitive but with enough control to keep the ball in play.
2) Essnova Series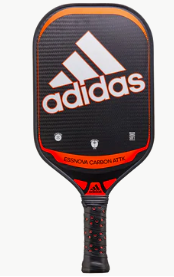 With a spectrum of choices mostly for intermediates aspiring to get better, a paddle in this series has choices between power and control (and balanced) and multiple shapes. A sports empire the size of Adidas will offer a paddle for this broad swath of players no matter what they are looking for in pickleball paddles.
3) Adipower Series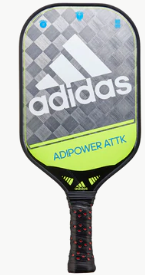 This series largely focuses on control and players who like these will often have a problem with hitting the ball long and/or wide. A performance lacking the ability to keep the ball in play is a sign the player needs a new paddle that can help correct this issue.
What About Price?
While price should not be your first criterion for selecting a paddle, everyone has a budget. The massive Adidas research department has done its homework as the price on these paddles is highly competitive.
There are times that paddles go on sale so sign up with your email adress and watch our newsletter join up your needs to our best prices of the season. Our clearance site is made for the shopper looking for a great deal.
Shop for the Best
You can secure your new paddle with pickleball-paddles.com but be sure to see our amazing deals on shoes, men's and women's apparel. We've got balls and bags too and all at a competitive price.
Have questions as you sort products for your cart? Call our friendly team of pickleball experts for advice and guidance. They love to help you be the best pickleball player you can be. Beginners and experts alike can benefit from our expertise.