Babolat Pickleball Paddles
You can't fake history - you make it. Babolat pickleball paddles continue the long tradition of history making racquet sports products from this French company focused on simply making the best products in the world.
In tennis, Babolat launched its first game changing string the year after modern tennis was invented. In badminton, Babolat pioneered innovative materials when no one thought improvements could be made.
Now, with an impressive series of outdoor pickleball shoes and indoor pickleball shoes already making waves, a new generation of pickleball paddles is setting new standards of excellence enhancing the history of this storied brand.
Why Buy Babolat Pickleball Paddles?
Their Outdoor Pickleball Shoes and Indoor Pickleball Shoes Show They Get It
Look, shoes for pickleball are not easy to design and build. They have to be durable yet light. Provide lateral support yet allow quick reaction times. Babolat shoes do all that and more.
A pickleball shoe has to understand this game is not the same as tennis or badminton or padel or any other game. Babolat did its homework and found the right mix of materials to make playing pickleball a happy thing for feet.
Paddles for Everyone
When you are a player getting on the court surface for the first time, you should be able to learn the basics of the game quickly. But you really don't know what you need in a paddle, so Babolat has figured it out for you.
But if you are experienced or a pro, you know exactly what you want and need from a paddle. And Babolat makes paddles for you too.
And for the huge percentage of the rest of players in between, Babolat's whole philosophy is to make paddles that can help you improve from a 2.5 to a 3.0 and to a 3.5 and beyond. This is no niche player: they make a paddle for you - no matter your skill level.
Committed to Excellence
Babolat pickleball equipment and apparel is built around their standard: be world class or don't make the product. This is the ethos, history and track record of Babolat and pickleball is not an exception.
Never Boring Designs
Following in the footsteps of their court shoes, Babolat wants their paddles to shout they have arrived. There is nothing subtle about their designs.
And here is an insider tip: many of the graphics on their paddles are street diagrams of the brand's hometown of Lyon, France. Cool!
3 Series of Paddles
RBEL Series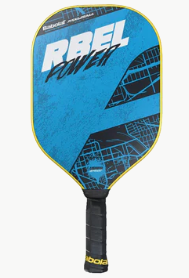 This series is mostly a graphite face lineup. While there is no shortage of power in these paddles, the hallmark here is control.
Babolat knows how to make you a better player by helping you put the ball exactly where you want it. They learned this from Nadal in tennis who gets to every ball and does something with it when he gets there.
The look is distinctly Babolat and the neon edge guard makes a statement that you are the master (or mistress) of your domain. You are an individual who is comfortable being who you are.
BPKL Series
This series is focused on mostly fiberglass in the face. Some models are 100% fiberglass while other have a small dose of graphite in them to provide more control.
A fiberglass surface's greatest strength is the power it helps generate. The Babolat version of this makes the famous "pop" easy to generate and maintain.
And the looks? Well, the bright yellow edge guard makes this series a standout in any lineup.
MNSTR Series
Babolat's latest aimed at the newer player needing both power and control. In addition, new vibration reduction technology makes these great for those who may have some arm and elbow issues.
What About Price?
Babolat knows they are newer kids on the block with their paddles. As a result, they have held the line on prices keeping them affordable for a huge share of the marketplace.
Your Next Pickleball Shoe (and Everything Else)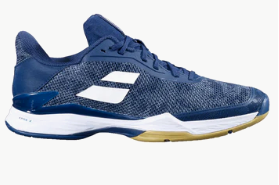 Pickleball-paddles.com has everything you need for pickleball. And we have them at the right price. See our clearance page too!
Paddles, shoes, bags, balls and nets. You name it we've got it.
Questions?
Call our team of pickleball experts. This group is not just knowledgeable, but they are friendly too. You'll be glad you did!