Gamma Pickleball Paddles
Evolution is a tricky thing for companies. On one hand they don't want to lose their focus on what made them successful in the first place and on the other they want to evolve their business to grow over time. Gamma pickleball paddles have evolved out of a company that built its reputation on quality tennis strings and grips, so this evolution is really a revolution.
Types of Gamma Paddles
The Gamma Sports Company believes in making advanced pickleball paddles with cutting edge technology for everyone from the advanced player to the beginner. As you might expect from a company so focused on paddle development, their paddles are loaded with features not always found in others.
Textured Composite Face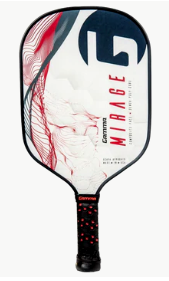 With several models that include a polymer core for soft, responsive shot making, pickleball players love this group of paddles for their power to hit balls at a high pace. These pickleball paddles are terrific for the player who can provide their own balance when playing.
The first thing a player notices is their shot will really pop off the surface for effortless power thanks to innovative use of fiberglass and a core that is the envy of the industry. From the first set on, you will notice you are hitting something different. And it is good!
Textured Graphite Face
This group of paddles features the poly core and here Gamma offers incredible control. The poly core paddle combined with the graphite hitting surface (and of course the famous Gamma grip) means that spin comes much more easily even to the average player.
With a thicker core than those found in other paddles, Gamma pickleball paddles offer a feel for the ball hard to find in this sport. Feel means you can hit dinks cross court or aim for the corners without fear.
The graphite will also make for durable paddles. While you don't ever want to abuse your pickleball paddle, you are likely to find a graphite surface like Gamma makes will last longer than other makes.
Elongated Shape Paddle Features
Yet another group of paddles made by Gamma show off a non-traditional shape. By USAPA regulation there are limits but a long paddle must be less wide.
There are advantages and disadvantages to this skinnier shape. On the plus side they provide a bit more reach for those hard to get to angles. In addition, they often have a somewhat longer grip to accommodate two handed shots - usually executed on the backhand side.
But before you line up to get one of these, know that they generally will have a smaller sweet spot. For the expert player who consistently hits in the center of the paddle, this is not an issue, but for most players this creates a challenging paddle to use.
What About Price?
Gamma is a smaller company but still somehow manages to keep the price for its paddles competitive with others. In fact, their entry level paddles have a very attractive price.
Shop With Us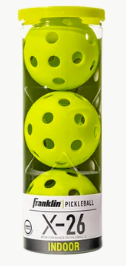 In addition to a huge selection of balls, apparel and shoes, pickleball-paddles.com has all those cool pickleball accessories like bags and sunglasses to complete your pickleball gear.
Have questions? Call us. Our team of friendly pickleball experts is happy to help!