Onix Pickleball Paddles
When your company only does one thing, you better do it well. Onix Sports who makes Onix pickleball paddles and a host of other pickleball products like balls and accessories may be a part of a larger corporate entity (Escalade), but this company has a laser-like focus on this game and no other.
As a specialty company, Onix wants to be known as making the best pickleball paddles for everyone from a beginner to advanced players. If you own an Onix pickleball paddle you are assured you own something where the employees of the company all have the same single minded passion you have.
3 Reasons to Buy Onix Paddles
Onix has only been around since 2005, but given the impressive list of features and details they pack into their equipment, it seems that the bigger brands have some catching up to do. The power and finesse players both will find an Onix they can love.
1) Singular Focus on Pickleball Equipment
This is all they do. If they were to make a pickleball paddle that just didn't work, it would be a huge calamity for them. So they make pickleball paddles, balls and bags that are loved by players of all abilities.
2) Major Pro Endorsements
With pros like Steve Cole and Lucy Kovalova and many others using their paddles, it is hard to match the breadth and depth of the penetration Onix has among those who play the sport professionally.
3) A Pickleball Paddle for Everyone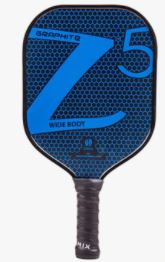 Face
It does not matter if you want a graphite face or a composite fiberglass face as Onix has the paddle for you. Since it isn't a shock that the sport endlessly debates the choice of graphite or composite, maybe you should buy both and store whichever is not helping you with shots that day.
Core
Want a polymer core or a Nomex insert? Is a polypropylene core right for you to take control of the court? Onix has you covered. With durability part of the core conversation, the Nomex vs. poly decision does impact the equipment market regarding price.
Larger Sweet Spot
Do you need a paddle to help you if you hit yet another ball outside the center? Onix is extremely popular among intermediate players who still need to groove their strokes.
Shape
If you are a fan of the conventional shape or a teardrop shape or even the longer and narrower style, Onix has some gear for you. Sometimes that little edge is what it takes to win.
Shop with Us
When you submit your email to join our newsletter, you will hear about sales and specials you will not want to miss. We have in stock a huge selection of paddles that are lighter in weight to mid-weight to heavy weight.
You will want to add accessories and bags to your cart as we have them all with a competitive price. Call us with any questions!