Prolite Pickleball Paddles
Wisconsin is the home of cheese, cheese dips and cheeseheads. But there is nothing cheesy about Prolite pickleball paddles make in Milwaukee, Wisconsin. This family-owned business is serious about making the pickleball industry sit up and take notice of their innovative new paddle designs.
The owner, Neil Friedenberg, is a 5.0 player in his own right and he has infused his company with a distinct identity of providing high quality pickleball paddles that are great for power and control at the same time - a formidable task indeed. Prolite pickleball paddles exist for those seeking their first pickleball paddles all the way up to elite pickleball players on the pro circuit.
Why Buy Prolite Paddles?
1) Innovation
For years, the pickleball industry made heavy wooden paddles modeled after the originals from the home of pickleball: Bainbridge, Washington. The first Prolite pickleball paddle was the very first composite pickleball paddle ever made and their sense of innovation in this family-owned business continues to this day.
In doing this, Prolite Sports changed the entire dynamic of the game. From this first paddle onward to today's newest generation of pickleball paddles, Pro lite will continue their orientation to innovation so as to appeal to all possible player types.
2) Pickleball Paddle with Power and Control
Most companies believe there is a trade off between control and power. They produce paddles geared for one or the other.
Prolite sees it differently. Prolite sports believes it can consistently make a paddle that provides both with a sophisticated combination of paddle weight, exotic faces and amazing core content.
3) Best Materials Expected of an Industry Leader
The price of carbon fiber for pickleball gear has come down allowing Prolite to produce paddles with this exceptionally light and stiff material. Thirty years from now, that might be the standard, but Prolite has taken their distinct identity of innovation and made carbon fiber the centerpiece of new paddles to go with their leading position having produced the first composite pickleball paddle.
Fantastic materials even extend to parts of a pickleball paddle you cannot see. Prolite Sports goes the extra mile to use specific materials to construct the handle and grip to be extra cushy yet responsive.
4) Durability at the Right Price
A Prolite paddle will last. This is not an accident. Being a Midwest company means understanding the need for long lasting products sold at a price that won't break the bank. This is why their solid warranty is such a good bet: their stuff can take a beating!
5) Steller Customer Service
Today Prolite Sports continues their unrelenting focus on their customers by understanding that sometimes unexpected things happen. Prolite continues their steller customer service even after you buy your paddle from pickleball-paddles.com in the form of a solid warranty.
6) Pickleball Community Involvement
Offering free clinics, sponsorships to pickleball tournaments and donating gear to schools demonstrates their commitment to the game. Donating gear is also extended to veterans programs and other non-profits.
High Quality Pickleball Paddles by Prolite
LX Series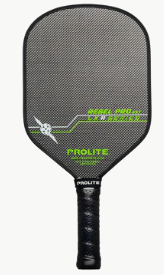 The very unusual and creative use of woven carbon fiber in this series is specifically designed to not compromise for either power or finesse players. The three layer carbon fiber is woven with gold or silver fibers giving the paddle an amazingly responsive feel.
The polymer core and a slightly elongated shape mean that even off center hits won't send that shiver of vibration up into tender elbows and shoulders. The perfect balance means everyone from the person used to table tennis paddles to the player seeking a pro level paddle will be thrilled with this series on account of the wide assortment of player types who can thrive with the right tools.
Powerspin Series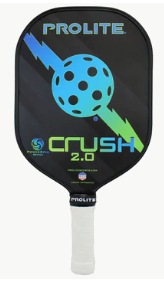 So, you want a great looking paddle that is not just a fragile beauty. You also know that with the right sweet spot, the best materials and a somewhat thicker than average paddle, you have a chance to hit for power or with finesse as needed.
The Powerspin is a player's paddle. These are paddles that will help bail you out when on defense and help you reset points and get back on offense.
And did we mention spin? Prolite does produce paddles geared to intermediates who want to upgrade their spin game. Even the edge guard has an aero channel built in to reduce wind resistance on account of the exceptionally precise design.
Since these paddles are a bit thicker, the core can have large lightweight panels that minimize vibrations and nasty sounds. This is especially appreciated in communities sensitive to pickleball noises.
What About Price?
As a Midwest company, they understand how price can help make a decision on a paddle. As a premium paddle maker, Prolite continues to hold the line on spiraling prices.
To be crystal clear, these are not discount paddles. You can however, find gently used paddles including the featured best selling paddles at a price you cannot get any other way.
Sometimes clearance prices can be offered so be sure to check out our sale page to see if there is an even better price than our normal value price.
Shop With Us
Our secure checkout is happy to accommodate your paddle purchase as you also peruse our absolutely huge supply of everything pickleball related. Shoes. Bags. Sunglasses. And apparel for the whole family.
The newsletter join process is simple and the newsletter tips will give you advance notice of deals and sales. Our team of pickleball experts can give you crystal clear advice on selecting a paddle or clothing sizes. And we are friendly too! Call us!