Prince Pickleball Paddles
Sometimes innovation comes in the form of gigantic, disruptive changes to a product or industry. Other times, like with Prince pickleball paddles, innovation is incremental meaning that small changes yield big results.
The decision to launch Prince pickleball with a rounder shape in their pickleball paddles came from their experience in other racquet sports like tennis where, over time, their gradual equipment changes ended up changing the sport. In tennis, they had every tennis player from aggressive college tennis players to senior citizen novices fascinated by what Prince would come up with next.
Prince continues to innovate on the pickleball paddle and racquet sports frontiers. Isn't it time for you to take a serious look at this important company's approach?
Why do Prince Paddles have a Rounded Shape?
Mega Sweet Spot
Let's be honest here. Pro pickleball players need a sweet spot about the size of a BB - they are that consistent with their strokes and where the ball strikes the face.
For the rest of the world, getting the ball into the sweet spot can be a bit of an adventure. Prince decided the rounded shape created an oversized sweet zone. And that ideal spot is where you want to be both for power generation and control.
People with a tennis background are acutely aware that getting the ball into that preferred zone on a tennis racquet has one more advantage: it reduces vibrations that want to wreak havoc on the elbow and shoulder. Vibrations from a pickleball paddle also subject the arm to vibrations that could cause pickleball elbow.
Four advantages of the very large sweet spot in a Prince Pickleball Paddle
It is easier to hit a large spot than a small one.

Hitting the ball in the ideal spot makes it easier to hit with more power and control.

Hitting shots in the sweet spot reduces vibrations to the arm thereby reducing the risk of injury.

A large sweet spot means fewer and smaller dead spots. And of course, hitting a dead spot gives you the exact opposite set of results than those you want.
Other Features of Prince Pickleball Paddles
Slim Edge Guard
A slim edge guard reduces the area of their paddles where mishits take place. The innovative shape plus the thin guard means Prince simply creates more usable space on the paddle face.
Longer Handle Length
A longer handle length like that found on many Prince paddles is especially important for those who hit a two-handed backhand. Even if you hit backhands one handed, a longer handle gives you options as to where to place your hand.
A Grip Size for You
Need a small grip size? There is a Prince paddle for you. If you need a smaller grip size, using the wrong size will hurt your game so there is no reason to compromise.
Grip sizes can be tricky. There are easy ways to find the right grip circumference and we tell you how. Unfortunately, some paddle makers don't offer a small grip but Prince pickleball paddles often have that option among their grip sizes.
Longer Paddle Length Option
If you crave a longer reach and like a narrower face, there is a paddle for you in the Prince lineup. This responsiveness to the pickleball consumer is exactly what built the Prince reputation in other racquet sports: they give players what they want and need.
Multiple Weight Ranges
With so much competition in the mid weight paddle market, it is refreshing to see some light weight choices in paddles. Light weight paddles are perfect for new players and those seeking faster paddle head speeds.
Paddle weight is a critical factor in picking a new paddle as we explain in our Buying Guide. Too often, players buy the cheapest paddle when what they really need is a quality light weight paddle.
Standard Weight?
There is no such thing as a standard weight. Find the right weight for you and that can be your standard weight!
Prince uses the term "standard" to designate paddles that fall into the mid-weight range. This is the range most in demand. Be aware that just a couple of ounces can and will make a very big difference in the performance of the paddle.
Quality Polymer Honeycomb Core
Like a thick polymer core in your paddle or do you prefer a thinner one? The gentle touch of a Prince model is not an accident- it comes from their core.
3 Series of Paddles
Prince Response Pro Pickleball Paddle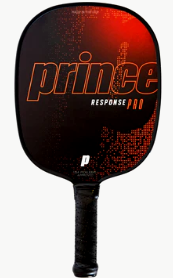 The fiberglass face in the Response Pro paddle series is there to provide that power and pop you need to hit those passing shots to win points. With light weight and mid-weight options there is plenty to like here whether you play women's, men's or mixed doubles.
With the endorsement of pickleball star Simone Jardim, these paddles were designed for a wide variety of players. The Prince Response Pro Series deserves to be in many players' bags.
Prince Spectrum Pro Series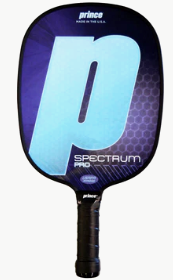 The thicker core of the Prince Spectrum creates a paddle fit for a queen or king. Multiple weights, grip sizes and colors mean you can find what is right for you allowing you to win three gold medals or even four gold medals in any tournament you enter.
Quantum Paddle Series
If you are looking for that longer reach paddle, you found it here. Singles players like this reach when they can get it.
What About Price?
With both entry level paddles and competitive pricing on their other models, Prince arrives in the market with the right perspective on preserving affordability. It is hard to find such advanced paddles with prices like these.
There are times that paddle makers allow us to offer sales on clearance models. Be sure to check our sale pages for these incredible values but be aware that when they are gone, they are gone. Act fast!
Gigantic Selection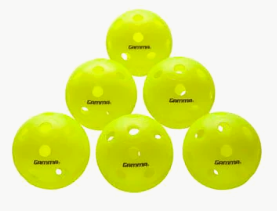 Pickleball-paddles.com is your one stop shop for everything pickleball. Simply put, our huge selection of paddles, shoes and accessories is simply amazing.
If you have questions, our outstanding team of local pickleball superstars is here with the answers. And even better, they are friendly so please feel free to call. We really love pickleball!
And our customer service is second to none. Orders ship fast. Take advantage of our curbside pickup if you are in SE Michigan.